The NSFAS Application is now open for all interested students, you can now download NSFAS Application form 2022 PDF using the link in this post.
The National Student Financial Aid Scheme, NSFAS has released their Online Application form 2022 PDF format for interested applicants. You can access the form on the NSFAS website www.nsfas.org.za/form-2022.
All interested applicants can visit the official website using the link above to download the application form. The NSFAS Application Form is now available from November 2nd 2021 and will close on the 7th of January 2022. Download the NSFAS application form 2022 now to start your application.
The National Student Financial Aid Scheme expect a massive turnout of applicants due to the recent COVID 19 pandemic. The NSFAS has an open application for Grade 9 to 12 and youths that are out of school but want to continue their education at any South African Public Technical and Vocational Education and Training (TVET) College or University.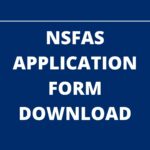 Applicants should read this ost carefully to successfully apply for the NSFAS 2022.
How can I get the NSFAS Application form 2022?
You can get the NSFAS Application form pdf format from the NSFAS official website. Fill the application form completely and attach all the supporting documents which you will then hand it over to the Financial Aid Office (FAO) at your University or FET college.
You can then scan or email your complete application form with the supporting documents to NSFAS at [email protected]
How to Apply for NSFAS Online 2022
The National Student Financial Aid Scheme, NSFAS was established by the South African Government to assist students financially in their education. The scheme provides funds that cover students registration, tuition, and allowances fee for books, food, transportation, residence, and accommodation.
You are about to find out how to apply for NSFAS Online Application 2022, keep reading.
Visit the NSFAS website to download NSFAS Application form
Fill the form completely and attach all supporting documents
Send your application form to NSFAS by mail to [email protected]
Required Supporting Documents

All applicants must attach all the required documents with their application form. Failure to do so will make your application ineligible: Below are the required documents;
ID document/card
Applicants birth certificate
Applicants must provide parents/ guardian/ spouse ID or death certificate where applicable
Proof of Parent or guardian income not older than 3 months
Your Parents/ guardian/ spouse pay advice/ letter of employment/ pension advice stating income (not be older than 3 months.
Vulnerable children should complete and sign the Vulnerable Child Declaration Form.
Applicants with a disability must provide a Disability Annexure A Form
All interested applicants should apply for the NSFAS Online Application and also seek admission into the University or TVET Colleges of your choice. Download the NSFAS Application form PDF using our link.
You can apply for the NSFAS application 2022 online and through a hard copy application.
WHO CAN APPLY FOR NSFAS APPLICATION FORM?
Only South African students that are planning or studying at a Public University or TVET College that meet the below requirements qualify for the NSFAS Online Application 2022
A SASSA grant recipient
Students with combined household income less than R350,000 per year
A person with a disability with a combined household income of not more than R600,000 yearly
A student who began their University studies before 2018 and their household income is not more than R122 000 per year
NSFAS Contact  Address
The NSFAS Contact Centre is open from 08:30 to 17:00, from Monday to Friday. You can contact NSFAS using any of the details below;
Email: [email protected]
Facebook: National Student Financial Aid Scheme
Website: www.nsfas.org.za
Twitter: myNSFAS
Instagram: myNSFAS
Use the link below to download your form
DOWNLOAD  NSFAS ONLINE APPLICATION FORM
Also, Read
How to check your NSFAS Balance
How to open a MyNSFAS account