If you are having difficulties registering your NSFAS account or NSFAS profile, this post is for you. I will put you through the steps on how to create NSFAS profile or Register for NSFAS account.
The National Student Financial Aid Scheme popularly called NSFAS provides bursaries to South African students to study at any public university and TVET colleges. NSFAS bursary will cover funding for registration, tuition and allowances.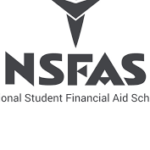 How to create NSFAS account
To create MyNsfas account you need to have some things ready, they are listed below;
What you need to register for NSFAS profile.
A valid mobile number (e.g 076 482 1064)
Working Email/Gmail address (e.g velly.dingaan17@gmail.com)
ID Copy ( preferable in PDF form)
If you don't have a Gmail account you can create one from here: Create Gmail Now, make sure you write your Gmail and password somewhere safe because you will need it later.
NSFAS will communicate to you important information like Application status outcome through your Gmail, you will also need your Gmail to reset NSFAS profile password.
Quick Steps to create NSFAS Account
Follow the step by step below to create your MyNSFAS profile
Close the Notice about an ID Copy
Select the CheckBox to allow NSFAS to verify and validate your information, check the image below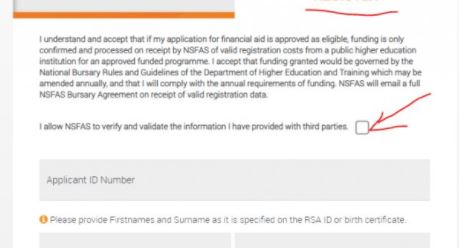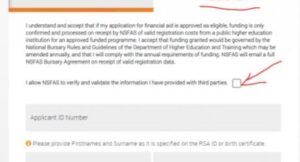 Input your correct ID Number, Full name, and Surname.
Create a new strong password, make sure you follow the requirements in the password section for your password to be accepted

Use any of these special characters [ @, #, *, & ], you can decide to use more than one. E.g SchoolGistSA@2021

After entering the correct password, everything should be green like below


Upload all the required documents and click REGISTER.
You can proceed to activate your profile by going to COMPLETE REGISTRATION on the sign-in tab. Use the button below to apply.
How do I check MyNsfas account?
Follow the steps below to check your MyNSFAS account:
To check your MyNSFAS account, visit www.nsfas.org.za 

Click on "myNsfas account".

Input your Username and Password

Click on the "My personal details" tab

Update your cellphone number and/or email address to your current one.
For more information and Inquiries, kindly drop a message below. You can follow SchoolGist SA on Facebook.