Mpumalanga Youth Development Fund (MYDF) is now accepting applications from students to apply for the Mpumalanga Youth Development Fund (MYDF) Bursary for the academic year 2022/2023. This bursary is open to all South African students.
The management of the Mpumalanga Youth Development Fund (MYDF) is inviting all students with excellent academic records to apply for the 2022/2021 bursary. This bursary aim at providing bursary for students in tertiary institution to promote expertise, work opportunities and capacity in the finance sector. This bursary is only open to undergraduate students.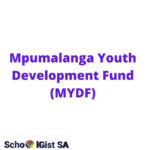 The Mpumalanga Youth Development Fund established the Office of the Premier of Mpumalanga (MYDF). The fund aims to
Assist youth to establish businesses;
Assist with expansion of existing and viable businesses;
Provide business skills development and mentorship; and
Provide business development support which will ensure access to markets and government-initiated opportunities
MPUMALANGA YOUTH DEVELOPMENT FUND (MYDF) BURSARY APPLICATION ELIGIBILITY
The MYDF is now in its second year of a three-year trial phase, and it provides grants to deserving and qualified 100 per cent youth-owned businesses (18-35 years).
All applicants should send their application in form of a business plan and attach to it the following required documents:
Identity Document (ID)
Curriculum Vitae
Proof of Residence
Company Registration Documents
SARS Tax Pin
BEE certificate (C IPC or Sworn Affidavit)
Proof of active business account
Proof of market I offtake agreements
HOW TO APPLY FOR MPUMALANGA YOUTH DEVELOPMENT FUND (MYDF) BURSARY
The application for the Mpumalanga Youth Development Fund is done using the form on www.mpumalanga.gov.za.
CONTACT MYDF
To make an enquiry, kindly direct your question to Mr SB Ntandane 013 766 2108/2005 or via email MYDF@mpg.gov.za NB faxed or e-mailed applications will not be accepted.
You can also contact the Manager – Youth Development, for the attention of Mr SB Ntandane, Private Bag X11291, Mbombela, 1200. Physical Address: Office of the Premier, Makhonjwa Building, First Floor, Riverside Park, Government Boulevard, Mbombela.
CLOSING DATE FOR APPLICATIONS
Completed applications need to be submitted on or before 20 May 2022 at 16h00. No application will be accepted by any applicants after the closing date.