Application is open for all interested applicants that want to apply for the Reeds Isuzu New Vehicle Sales Trainee Internships Programme 2022. We will share with you the details about the programme below.
Reeds Isuzu is calling on all unemployed and prospective graduates to apply for ongoing internship opportunities. The Reeds Isuzu Internship is open to graduates in the company's core business.
If you are in this category kindly apply for the Reeds Isuzu New Vehicle Sales Trainee Internship Programme which will take place for a maximum period of 12 months in the eligible disciplines/fields of study.
The Reeds Isuzu New Vehicle Sales Trainee Internship will make use of both theory and practical approach to train interns and leads to a recognized qualification/certification.
The best student in the internship programme will receive an accolade for their brilliant performance and for their performance in all areas of the training. By portraying a positive attitude, this student contributes to enhancing the image of Reeds Isuzu.
This is an opportunity for all graduates to gain knowledge and experience, and get certified. This internship will expose you to industry standards and connections with like minds.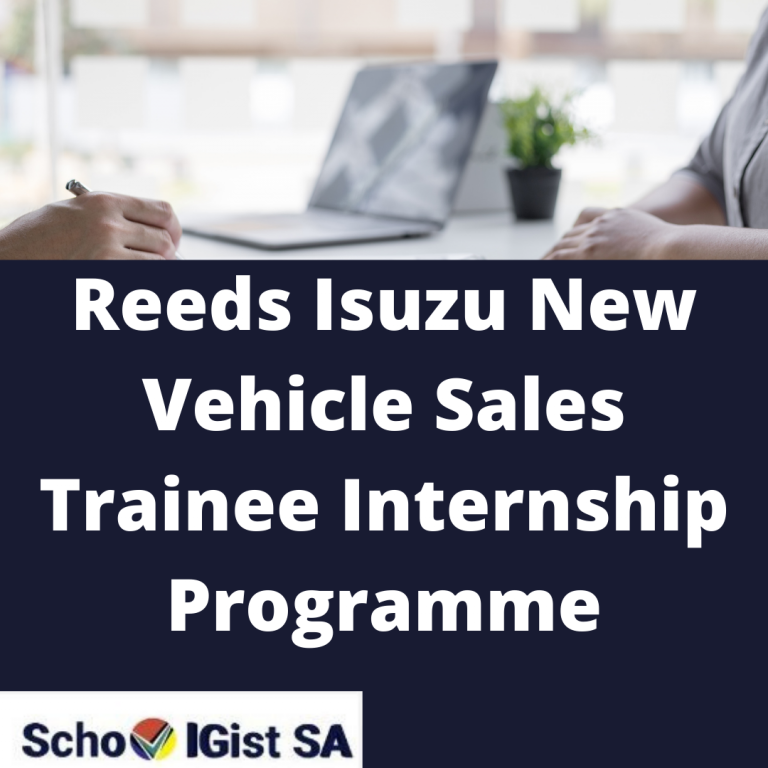 REEDS ISUZU NEW VEHICLE SALES TRAINEE INTERNSHIP PROGRAMME APPLICATION ELIGIBILITY
RESPONSIBILITIES:
Assisting sales executives in the following areas:
Driving,
Licensing
Admin
Deliveries
Promotions, Showroom displays & Merchandising
Demonstrations, Customer follow-ups & Telesales
COMPETENCIES NEEDED:
Below are the competencies requirements from the applicants of this internship programme
Matric (minimum)
Business or Marketing qualification
English and Xhosa speaking
Code 08 driver's licence
Good basic computer skills
Enthusiastic
Good people/communication skills
Punctual
Honest
Reliable
Well organised
Team player
Willing to put in the hard work
Ability to sell
INTERNSHIP APPLICATION INSTRUCTIONS
All interested applicants are to send their application form, comprehensive curriculum vitae and certified copies of their qualifications. You are to send it to Brianl@Reeds.co.za.