Apply for PhD International Positionsin Buddhist Studies in Germany 2019/2020. Candidates can now apply for scholarship in Ludwig Maximilian University, Germany.
Ludwig-Maximilians-Universität Münch is the heart of Munich. LMU is recognized is one of Europe's premier academic and research institutions. Since her founding in 1472, LMU has given admission to scholars and talented students from different part of the world, keeping the University at the nexus of ideas that challenge and change our complex world. Successful applicant will be granted the following €1200 per month,  insurance, support for rent, €460 per year and lump sums for travels.
Fluency in English is required for applicants and also a basic knowledge of German is also desirable, but not a prerequisite. Also, willingness to learn German or improve German language skills is expected.
Successful applicants have loads of benefits available to them. The scholarship is also one of the most prestigious aimed at producing quality minds through education. Below are the scholarship details and eligibility as stated by the official page of the scholarship.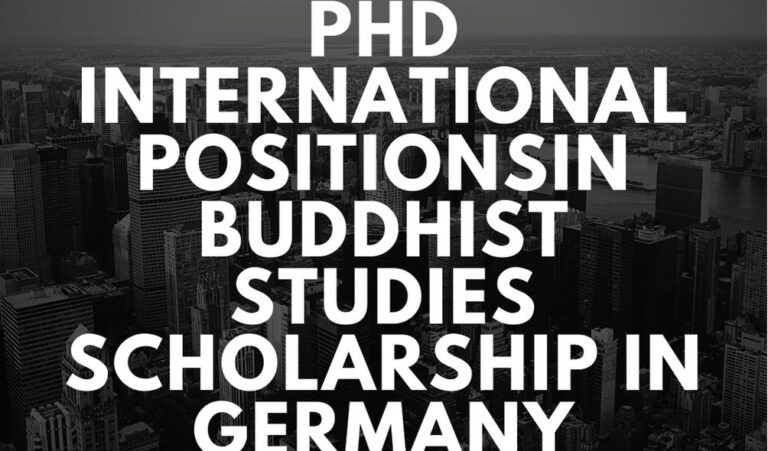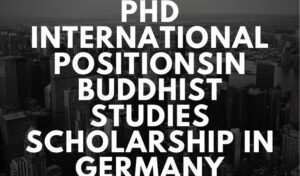 Ph.D. INTERNATIONAL POSITIONS IN BUDDHIST ELIGIBILITY
Successful candidates are selected on the following criteria:
The application is open to international students.
The prerequisites for application are non-German citizenship, a Master of Arts or Magister Artium degree or equivalent in a relevant field, excellent knowledge of at least one Buddhist source language, outstanding qualifications in the subject, and fluency in English. Basic knowledge of German is also desirable, though not a prerequisite, but willingness to learn German/improve German language skills will be expected. Applicants should not have lived in Germany for more than fifteen months at the time of the submission of their materials to the DAAD, which will most probably take place in December or January, and the last final exam (Master Degree) should have taken place no more than six years before this date.
Depending on the degree of previous knowledge of German, a 2-6 month intensive German language course might be necessary before the start of the 4-year scholarship (the DAAD will provide the fees for the language course, free accommodation, insurance, €400 per month, and a travel lump sum during this period).
Research stays abroad for fieldwork are possible, but their total duration must not exceed 25% of the duration of the program.
Fluency in English is required. Basic knowledge of German is also desirable, though not a prerequisite, but willingness to learn German/improve German language skills will be expected.
PHD INTERNATIONAL POSITIONSIN APPLICATION INSTRUCTIONS
Please apply using our online application tool: https://www.portal.graduatecenter.uni-muenchen.de/ocgc/buddstud
Application must include:
After you have registered, you will be asked to submit the following documents
Full curriculum vitae
A letter of motivation that demonstrates your acquaintance with our program and your qualification in the subject.
An outline of the planned dissertation project including a schedule (no more 2700 words)
A short schedule/ working plan of your planned research stays/field trips abroad (when, where, what, how long) (if applicable)
A digital version of your M.A. thesis
Contact details of two university professors from your home university, who are willing to write a report about you. Once you have filled in the information about these professors (referees) and saved it, they will receive an email from the application portal asking them to write a report about you and to upload it onto the portal by October 31st.
Certificates:
(school leaving certificate qualifying you for admission to higher education in your own country)
certificates of annual examinations taken at the home university (transcripts of records) (including an explanation of the grading system)
certificates of any academic degrees or advanced qualifications showing grades and explaining the grading system (description of grade scale).
The essential parts of all university certificates and diplomas in languages other than German or English should be translated.
(For French-speaking countries: License or Maitrise with Assez-Bien along with a DEA/DESS degree or a Master's degree according to the LMD system.)
Certified copies of all translated documents must be submitted to DAAD only after a letter of award has been received.
11. A document certifying fluency in English or German.
12. The document certifying excellent knowledge of at least one Buddhist source language.
13. Documents relating to periods of practical training, if applicable.
14. List of publications, if any.
15. For applicants from China: You can upload a certificate from the Academic Evaluation Center (Akademische Prüfstelle) about the authenticity of your submitted documents. You don't necessarily have to upload it now, but if we nominate you and you submit your documents to the DAAD (probably in December) you have to submit this certificate together with your other documents. Applicants from other countries do not need this document.
Only applications that have been submitted (with the International Office and registered on the website of the scholarship) before October 6, 2019, will be considered.
Click here for more information and inquiries OR leave a comment below