There are a number of higher certificate courses at Unisa and in this article SchoolGistSA dives into these courses.
The University of South Africa, popularly known as Unisa is one of the 12 mega-universities worldwide and as well the university with the largest number of students in the whole of South Africa.
As of 2018, Unisa had a population of 381,483. Unisa was ranked the 6th best university in South Africa.
Unisa offers different courses and programs. These courses and programs consist of undergraduate qualifications, I.e( Higher certificates, advanced certificates, diplomas, advanced diplomas, and degrees). However, our main focus in this article is higher certificate courses in Unisa.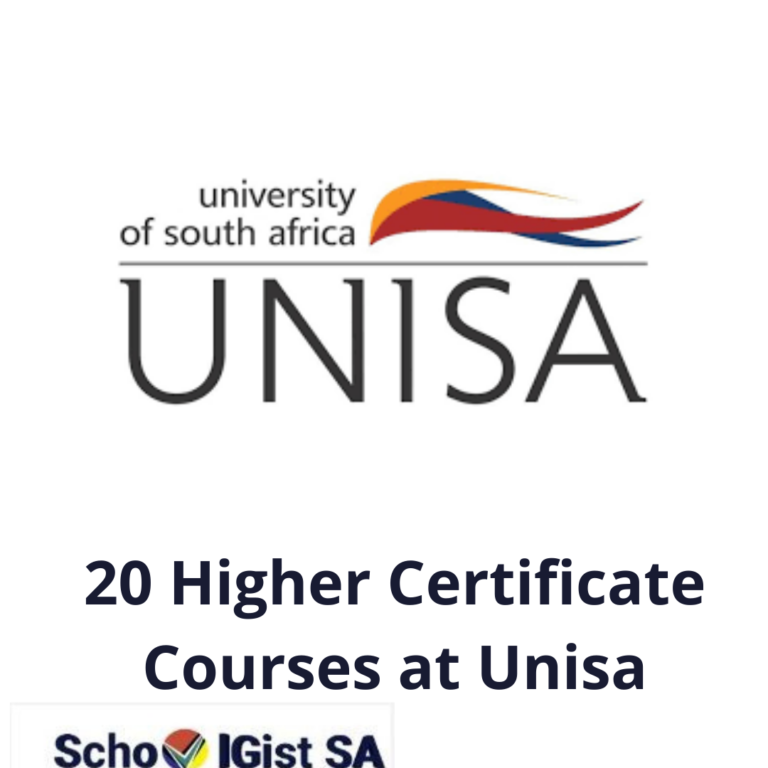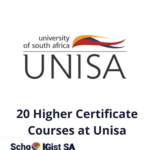 Top 20 Higher Certificate Courses At Unisa
It is beneficial to know that Unisa is constituted of seven colleges which are :
College of Science, Engineering, and Technology(CSET).

College of Accounting Science (CAS).

College of Agriculture and Environmental Sciences (CAES).

College of Education (CEDU).

College of Law (CLAW).

College of Economic and Management Sciences(CEMS).

College of Human Sciences (CHS).
Each College offers more than one higher certificate course. Now, let us discuss the 20 higher certificate courses at Unisa
Being a higher certificate course with 120 credits, It takes 3 years to complete this course at Unisa. The qualification is aimed at introducing students to some of the fundamentals of legal principles and practice by imparting standardized skills and academic competence within the field to prepare them for what is yet to come at an advanced level. This is one of the top higher certificate courses at Unisa.
This course enables students to be acquainted with criminal justice theoretically and practically.
This will enable the qualifying student to understand the basics of physical science as well as laboratory skills with the hope of making them employable in the laboratories in higher institutions of learning as well as in industries as support staff to specialists in the field of physical science.
This course makes students understand the principles that govern marketing and its practical application. It explains the principles, theories, marketing strategies, and the art and science of marketing. It is one of the higher certificate courses at Unisa that are in high demand.
Another one of the top higher certificate courses at Unisa is the higher certificate in Banking. This course unravels to qualified students bank management and theories from the basics. On the completion of this course, one can easily join the financial services sector at the entry level.
Demonstration and application of the knowledge of animal husbandry, anatomy, physiology, behaviors, and other knowledge and skills related to animal care and well-being are what this course specifically teaches.
On the completion of this course, it is doubtless that one would have acquired the knowledge of statistics and data management, and exploration skill. This is one of the top choices amongst all higher certificate courses at Unisa.
I would recommend this course to those that would like to improve their basic proficiency in English, basic numeracy, and general computer skills. This course works on the improvement of the aforementioned. Not only that, but it also introduces the concepts and principles of economics to students.
This equips students to operate and perform at an operational level in an organization or company. One easily identifies and solves problems relating to the operational management activities in an organization after completing this course.
All the crucial aspects of managing a retail store are being understood in this course including sales skills, merchandise buying, and management of human resources. The primary purpose of this course is to provide its students with the knowledge and skill to be able to contribute to store management in a retail environment. 
Those who completed this course eventually get employed by short-term insurance companies or insurance brokers because the course mainly fulfills the requirements for membership in the insurance institutes.
This course erases the uncertainties about the discipline in accounting science for those with the dream to pursue a career in the field of accounting science.
The need for ensuring that records are well kept has become increasingly important and applies to a wide range of sectors. In the specific cultures of archives and record management, this course teaches how to be effectively responsible.
This equips students with the essential knowledge and skills to work effectively as a social auxiliary workers under the guidance and leadership of a social worker to achieve the purpose of social work.
The main purpose of this qualification is to introduce students to elementary concepts of economics, accountancy, and business management.
This provides students with basic knowledge, conceptual tool,s and practical techniques for higher education studies in life, environment, and other related science fields.
The course is aimed at students with the necessary basic skills to succeed within the open distance learning environment and some articulations into first-year undergraduate degree qualifications offered. 
This enhances generic competencies within open distance learning environments such as basic language and learning skills, information management, and teaching skills.
This is not a professional teaching qualification. It only allows articulation into a diploma in adult basic education and training.
Frequently Asked Questions on Higher Certificate Courses At Unisa
Below are the frequently asked questions about higher certificate courses at Unisa and their answers.
What courses does Unisa offer for higher certificates?
Some higher certificate courses at Unisa include a higher certificate in Archives and Records Management, Marketing, Banking, Animal welfare, Mathematics and Statistics, Tourism management, Supervisory Management, Retailing, Insurance, Accounting Science, Life, and Environmental Science, Social Auxiliary Work, Economic Management, Senior phase, and Further education Training Teaching, Adult Basic Education And Training, Education Foundation Phase And Intermediate Phase. These are amongst the numerous higher certificate courses at Unisa that you can pick.
How long does it take to complete a higher certificate course at Unisa?
It takes 3 years to complete some of the higher certificate courses at Unisa.
Who Qualifies for a Higher Certificate at Unisa?
To be qualified for a higher certificate at Unisa, one must have achieved a minimum of 40% for their home language subject, a minimum of 40% in two other subjects excluding Life Orientation, and at least 30% in any other three subjects.
Which Course can I Take with a Higher Certificate?
There are several higher certificate courses at Unisa you can take. Below a are few of the courses you can take with a higher certificate:
Business Management Courses.

Marketing Management Courses.

Legal Secretary Courses.

Financial Management Courses.

Human Resources Management Courses.

Educare Courses.