The Belgium Campus ITVersity online application is now open for all interested applicants. You will find the application details and the application process in this post.
If you want to become a professional in IT, the Belgium Campus ITVersity Online Application might be your first step in achieving your dream. The institution is currently calling on all eligible candidates to apply for the ongoing admission exercise.
Belgium Campus ITVersity offers varieties of diplomas, degrees and short courses. Scholing at the institution will open your mind to many things in the ICT world.
The institution offers courses like software development, business intelligence, user experience design, software engineering, data science, database design, artificial intelligence, programming, web development, system design and architecture.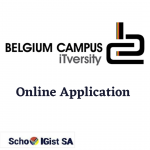 Courses Offered
Diploma in Information Technology
Bachelor of Computing
Bachelor of Information Technology
National Certificate: IT (System Development)
National Certificate: IT (Database Development)
Campuses
Tshwane
Ekurhuleni
Nelson Mandela Bay
Belgium Campus ITVersity Online Application
If you want to take part in the Belgium Campus ITVersity Online Application for the coming session, follow below steps:
Visit the Belgium Campus ITVersity website and click on "Apply Now" to start your application
Input your application details and click on 'Register'
Log in to the application portal with your details
On your Applicant Profile input all your information. If you cannot complete your application, you can always log in to complete it later.
Select the qualification you want to enrol for and the campus you want to attend. You can do this with the Tuition Application Form.
Upload a copy of your final GR11/ GR 12 (or equivalent) results
For those that want on-campus accommodation, fill the Residence Application
To track your application, go to the "Status" tab on your application portal. You will be notified if your application is successful or not.
Successful applicants will have to pay the registration fees and upload all their final supporting documents.
You can contact the Belgium Campus ITVersity using the details below: