Here are the Aviacom Flight Academy courses for those that want to study Aviation in the school. Aviacom Flight Academy is one of the best schools in South Africa to study Aviation for those that want to become pilots.
The flight academy is approved by European Aviation Safety Agency (EASA) as an Aviation Training Organization (ATO). It offers a wide range of high-quality courses with low-cost pilot training courses.
Aviacom pilot training program with preparing you for the exam needed to get the European EASA License. The flight school also work with many partners which enables them to offer courses for a pilot with EASA, FAA, ICAO licenses in Lithuania and the rest of the world.
The Aviacom Flight Academy (AFA) will help you to find the best cost at a low cost. Below I will share with you the list of Pilot Courses in the academy.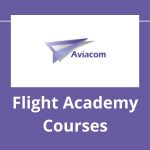 Aviacom Flight Academy Courses
Below is the list of courses offered the Aviacom for candidates that want to become a pilot.
AIRCRAFT TYPE RATING COURSES
Boeing type rating
Airbus type rating
SAAB 340 Type Rating
ATR 42/72 Type Rating
BECOME A PILOT COURSE
Private Pilot License (PPL)
Instrument rating
Night Visual Rating
PPL H
CPL
Multiengine Pistons – MEP
ATPL THEORY ONLINE
The Air Transport Pilot License (ATPL) is the license you need to work as a captain or co-pilot in air carriers' aircraft. The theory course will prepare you for the EASA exams.
PILOT QUALIFICATION COURCES
Multi-Crew Course (MCC)
JOC
Dangerous good
Flight Instructor (FI) & Type Rating Instructor (TRI) Course
Contact Aviacom Flight Academy
You can contact Aviacom using the details below:
Contact telephone: +370  657 774 96
E-mail: [email protected]
Address: Kalvariju str. 206, Vilnius, Lithuania