A lot of schools in South Africa end their application in November while a few end in August. It is important as a prospective student to make inquiries and get information about your school of choice.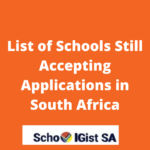 List of Schools Still Accepting Applications in South Africa
This article will give you information on the application dates as well as those that are doing late entries. Some of these schools are as follows. 
If you are applying for a course at the University of South Africa, you should be informed that admission registration for 2022/2023 for undergraduate be it diploma, degree, advanced certificates, higher certificates, and advanced diploma is between the 1st of September and 30th of November 2022. For an Honours degree and postgraduate diploma, the application date is between the 1st of September and the 15th of December 2022. 
For master's and doctorate qualifications, it is between the 15th of September and to 5th of November, 2022. Visit their website for full details on how to apply and study fees. 
The University of CapeTown admission is open and will close on or before these dates;
30th September 2022: Application for undergraduate programs closes. This is also the date to submit the Bachelor of Architectural Studies portfolio. 

31st October 2022: This date is for applicants in grade 12 as of 2022. This date is also the deadline for interim and past transcripts for transferring students. 

30 November 2022: Deadline for application for National Student Funding Assistance Scheme. This is no late registration and you can only apply online.

31st December 2022: All final transcripts must be submitted on this day and non-NSC school leaving results. These documents must be submitted as certified paper documents.
University of Limpopo
The deadline for applying for an undergraduate course at the University of Limpopo is the 31st of October, 2022. This date is also the closing date for PGCE programs. The Master's program closes on the 27th of September,2022. 
Applicants should note the following deadline dates for the application to the University of Pretoria. 
The deadline date for application to the Faculty of Health Sciences is the 31st of July, 2022.

The final date for the BSC Architecture program application is the 30th of June, 2022. This date was newly extended.

The Faculty of Veterinary Medicine has extended the deadline for application to 31st July 2022.

The University portal is expected to close by 11.59 pm on the same day.
Students are advised to apply as soon as possible and not to wait till the deadline day before they apply. You can contact their student's service center through their email at ssc.up.ac.za for more information.
Nelson Mandela University 
The admission application to Nelson Mandela University will close on or before the 14th of September, 2022. It is better for students to apply and submit their documents earlier because some places in the qualifications are limited. The portal is expected to close down on the same day by 11.59 pm. See more details on the school website (www.mandela.ac.za).
Application to the University of The Free State is open at the moment and admission is ongoing. Applicants should take note of the dates below; 
31st May 2022: This is the deadline for Health Science courses like optometry, physiotherapy, dietetics, biokinetics, occupational therapy, and radiation sciences. 

31st July 2022: This is the closing date for Architecture, Nursing, Quantity Survey, and Construction Management 

30th September 2022: Geology, Music, Social Works, Community Development, and all non-selection programs.

1st November 2022: This is the last day to apply for Fine Arts.
Frequently Asked Questions
These are the frequently asked questions about schools that are still accepting applications.
Does the University of Pretoria accept late applications?
The University of Pretoria only accepts late applications if there are still spaces after the original deadline. They will not accept it if there are no more spaces. Contact the school service center at ssc@up.ac.za
How many points do I need for a University of Johannesburg application?
Applicants applying to the University of Johannesburg need an original National Senior Certificate for admission into degree courses. A minimum APS of 26.
How many points are needed for UNISA?
To enter a degree course at the University of South Africa, you need a minimum APS of 20. You would be considered for a degree course if you have a minimum APS of 20 to 24. 
Conclusion
There are more schools in South Africa that are still accepting applications. This article has given you details on some of the universities that are still open in terms of admission.