This post is about the Shoprite Internship Programme 2022, how to apply, intern requirements, eligibility, online application form, application closing date 2021-2022, salary scale, interview questions sample, and lots.
Are you a South African student looking for an Internship Programme this 2022? Shoprite Internships Programme 2022 is made available for you!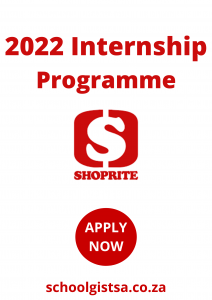 Applicants should read the application process below which will provide enough to them.
Without regard to the following, all qualified applicants will receive consideration:
Sex
Race
Color
Age
National origin
Religion
Sexual orientation
Gender identity
Protected veteran status
Disability, or other protected status.
Shoprite Internship Program 2022 Application Details
At Shoprite, a wide range of in-store positions are also available in our continent-wide operations, including food, furniture, and fast-food retailing.
Internships Available:
Buyers Assistant – Foods Buying
SHO210108-4
SHO200213-1
Location: South Africa, Western Cape, Brackenfell
Requirements:
Grade 12 Tertiary qualification in Office Management or similar – advantageous
Degree in Supply Chain or relevant (Desirable)
Experience:
Office administration or data capturing Customer service Previous experience as a Buyers Assistant – advantageous
2 years experience in the supply chain.
Knowledge and Skills Required for Shoprite Internship Program 2022
Applicants should possess the following skills to be eligible for the Shoprite Internship Programme 2022:
Product knowledge will be advantageous.
Computer Literacy – MS Office, especially Excel – Pivot Tables
SAP Knowledge is Essential
Knowledge of Buying systems
Google Suite and/or related systems
Verbal and written Communication Skills
Administrative Skills
Problem Solving Skills
Typing skills
Attention to detail
HOW TO APPLY
Shoprite as a company is an equal opportunity employer. When recruiting internally and externally, we are committed to Employment Equity.
The company's policy is to promote from within wherever possible.
Applicants should therefore note that internal candidates will be considered first before external applicants get reviewed, provided it is supporting the achievement of our Employment Equity goals.
Feedbacks will be given to all candidates whenever possible. However, applicants should note, if they don't get any response in 30 days, kindly consider your application unsuccessful.