Belgium Campus ITVersity is one of South Africa IT higher institutions. The ITVersity has three campuses which are Tshwane Campus, Ekurhuleni Campus and Nelson Mandela Campus. Each campus has facilities to enhance students learning. make learning easy and fun.
Belgium Campus offers state-of-the-art facilities to accommodate students and create a constructive, unique and tailored learning environment. The institution goal is to make sure students have access to the latest technology and experience world-class education in a fun and comfortable environment.
Belgium Campus promote equality among students and offers all students the opportunity to access all facilities. Below are the Belgium Campus ITVersity Campuses and Facilities.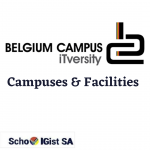 Belgium Campus ITVersity Campuses and Facilities
The institution has three main campuses that have facilities to make learning easy and fun. Below are the campuses and facilities:
TSHWANE CAMPUS FACILITIES
Hybrid Classrooms
Student Accommodation
Robotics Lab
E-Library
Cafeteria
Sport FAcilities
Aquaponics
Learning Factories
Study Rooms
EKURHULENI CAMPUS FACILITIES
Study Rooms
E-Library
Cafeteria
Hybrid Classrooms
NELSON MANDELA BAY CAMPUS FACILITIES
Hybrid Classrooms
Student Parking
Student Accommodation
E-Library