The National Senior Certificate, Matric results is now out for 2021/2022. This post will put you through how to check Matric results and give you a detailed explanation about MAtric and what is next after Matric.
Now that you are done with your matric examination, you might be wondering how you check your matric result? This article is going to give details on how to check matriculation results online, through SMS, Newspaper and others. You will also get more information on matric exams and schools that do not require matric results for admission.
Matriculation examination is a final exam that secondary schools leavers do to get admission into higher institutions. Checking matric results is now easy compared to before due to the growth in information technology.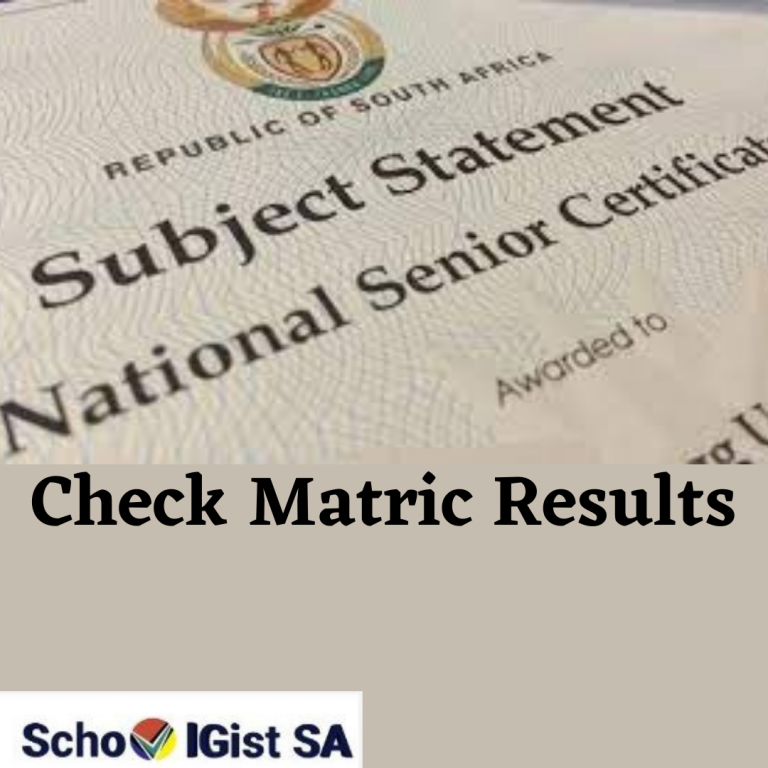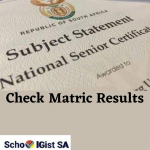 HOW TO CHECK MATRIC RESULTS
You can check your matric result through any of the following means:
HOW TO CHECK NSC MATRIC RESULTS ONLINE
To check your Matric results online follow the steps below:
Note: You need your Exam number, Home Language, Your personal details (name, surname, etc.) to access your Matric results.
How to check Matric Results on  News24 Website
Go to the News24 Matric Results Portal
Enter your Matric Examination Number in the required field
Select your exam type, either NSC or IEB.
Tap the 'Search' button to access your NSC Results
HOW TO CHECK NSC MATRIC RESULTS AT

 HIGH SCHOOL
Students can also check their Matric results at their respective high schools. Your school will have your results ready for collection a day after the result has been released.
You should know that the result obtained from your school is not the official matric certificate, you can obtain your matric certificate once printed in full.
HOW TO CHECK NATION SENIOR CERTIFICATE RESULTS VIA SMS
If you don't have access to the internet and cannot go to your high school to obtain your results, you can access your Matric results through SMS following the steps below:
Send your ID number and exam number to 35658
A confirmation SMS will be sent to you once it is successfully delivered
You will be charged at R1,50 and R1 per minute on USSD.
You will then have access to your results
HOW TO CHECK NSC RESULTS VIA USSD
Register using the USSD code *120*35658#
Answer a few multiple questions
Enter your ID number
You will get your matric results per subject
USSD rates apply
Where can I check matric results online?
Candidates matriculation exam results are always published on the Department of Basic Education (DoBE) official website and that of the Independent Education Board (IEB). You can also get your matric results from News 24 website, EWN matric portal, or even the IOL website.
How do you check matric results online?
The growth in technology has made things easy in every sector including education. To check your matric result, all you need is an internet connection and your smartphone or computer. You can check your result from the comfort of your room or in a cafe easily. To check the result, all you need is your examination number, personal details (name, surname and home language) to log in and check your result.
When are matric results released?
Your matric result will be released at midnight of the scheduled date. After the release, you can head over to the above-mentioned website to check your result. The site will definitely be slow immediately matric result is released because many candidates will want to check their results.
What happens if the matric result is bad?
After checking of results, some students will perform very well and some performance will be poor. If you have a bad result there is no need to panic as there are alternatives to the matric exams. You can opt for the NQF 4, enrol for a bridging course, or join an extended degree program.
Understanding Matric Results
Matric results are one of the most important things in a South African child's education and it somehow determines your career life and the kind of institution you can attend. It is very important for all students and parents to understand Matric results.
While determining your career of choice, it is important for students and teachers to put the effort in passing Matric results and the requirements for the career the child want to go into. Below we will provide you with further details about Matric results.
National Senior Certificate (NSC)  levels and the APS comparison
| | | | |
| --- | --- | --- | --- |
| NSC Levels | NSC% | APS Levels | APS% |
| | | 8 | 90 – 100 % |
| 7 | 80 – 100 % | 7 | 80 – 89 % |
| 6 | 70 – 79 % | 6 | 70 – 79 % |
| 5 | 60 – 69 % | 5 | 60 – 69 % |
| 4 | 50 – 59 % | 4 | 50 – 59 % |
| 3 | 40 – 49 % | 3 | 40 – 49 % |
| 2 | 30 – 39 % | 2 | 30 – 39 % |
| 1 | 0 – 29 % | | 0 – 29 % |
What does a learner need for different pass levels?
Check the table below to know the pass level for which programme. This is calculated using the table above:
Pass Level
Points
Bachelor Pass

4 in four high credit subjects
3 in-home language
2 in other two subject
Total points: 23

Diploma Pass

3 home language
3 in the other four high credit subjects
2 in other two subject
Total points: 19

HC Pass

3 in-home language
3 in other two subjects
2 in three other subjects
Total points: 15

NSC

3 in-home language
3 in other two subjects
2 in 4 other subjects
Total points: 14
Levels of achievement explained
On the National Senior Certificate, there are different levels of achievement. The level of achievement students obtain will determine the student next step.
It is compulsory for all learners to have more than 40% in their home language, anything less for their home language is a failure.
Bachelors – Will get you provisional entrance into any University or degree course.
Diploma – Will get you provisional entrance into any University of Technology or diploma course.
Certificate – Will get you provisional entrance into any College or certificate course.
Having met up with the level of achievements above is not a guarantee for admission. Some programmes might request for more per cent higher. It is advisable for all students to put in their best in their Matric exam to score higher.
B
Bachelors Pass

Must obtain at least 40% for your Home Language.
Must obtain at least 50% for four other High Credit subjects.
Must obtain at least 30% for two other subjects.

D
Diploma

Must obtain at least 40% for your Home Language.
Must obtain at least 40% for four other High Credit subjects.
Must obtain at least 30% for two other subjects.

HC
Higher Certificate

Must obtain 40% in your Home Language.
Must obtain at least 40% in two other subjects.
Must obtain at least 30% for three other subjects.
It is important to note that one of your languages must either be English or Afrikaans to qualify for a Higher Certificate.

NSC
NSC Pass
NSC (National Senior Certificate) Pass
To get an NSC pass you need your 40% minimum for your home language and 40% for another 2 subjects – you can fail a subject – even your first additional language – but you must then get 30% or more for the other 6 making a total of 6 passes.  If you have an average of 33⅓% you will be awarded your NSC but will not enable you to study at any university. You need to aim higher!
F
Fail
Further study may not be possible unless subjects are rewritten
How to recover damaged Matric Certificate
To get a new original matric certificate, follow the steps below:
Pay the prescribed fee by postal order at the Post Office, cash at DBE/PED office or by cheque.
2. Visit the nearest DBE/PED offices with the following documents:
Original national/ senior certificate and a certified copy
Identity document (ID) and a certified copy of your ID
An affidavit stating the reasons for alteration (detailed one)
A confirmation letter from the Department of Home Affairs
3. A copy of your birth certificate. If you don't have a birth certificate you can use a clinic card, baptismal certificate, or school report that states your name and date of birth.
For those that are outside South Africa, you can get someone in South Africa to do it for you.
How long does it take?
After you have submitted your application, the department will have to get your certificate from the archive. This will take up to 5 to 6 weeks.
How much does it cost?
Recovering your matric certificate will cost you around R118.00 for the Replacement certificate. If you want a statement of results with it, it will cost you an additional R47.00. These fees are valid from 01 April 2019 until 31 March 2020.
Study Tips for Matriculants in South Africa
1. Planning and scheduling
The first thing to do to make your study efficient is to have a proper study plan. Your study should start from the first class, make sure you schedule the right time to study each course. Reading every day will ease exam tension and reduce the study load days to exam. Also, make sure you read what you are thought that day.
2. Study in a clean, quiet and orderly room
While planning your study time, make sure you select a silent place for your study. Make sure there is no form of distraction where you want to read.
3. Take Good Notes
A neat and well-written note will motivate you to read. While taking notes in class make sure you concentrate very well and get what the lecturer is saying. Also, make sure your note is neat and well written. If there is anything you did not get in class, make sure you ask your mate.
4. Review and revise
After reading, make sure you revise what you have read and know what you just read before you proceed to another. Also, you can join a reading group to revise what you have read with them. Revising with others will help you to know where you are lacking or what you are getting wrong and how to work on them.
6. Don't Procrastinate
Make sure you follow your reading timetable strictly. Do not postpone your reading to another day without a cogent reason.
7. Set Goals
Set a study goal for yourself to keep you motivated and make sure you are passionate about the goals.
8. Join Study Group
After you have read alone, join a study group composed of like-minded people to study together. Also, don't hesitate to seek assistance from your mate in areas you don't understand.
9. Get Past Questions
Make sure you get past questions on all your courses. Most time, past questions are repeated in an exam, Even if there is no past question in the exam, there will surely be similar questions. Getting past questions and solutions to them will give you an idea of what you should be expecting in the exam.