Here are the details on how to apply to Cornerstone Christian College for admission. The application process and the required documents are published in this post.
The application to study at Cornerstone Christian College is open for all applicants that meet the institution admission requirements. Applicants should follow the steps below to apply successfully to the institution.
Applicants must apply for the Cornerstone Christian College within the admission application period before they can proceed to register for a qualification. Your application will be considered based on the academic admission requirements for the qualification you applied to and your final mark at the undergraduate level.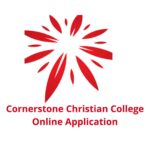 If you are qualified and admitted into the Cornerstone Christian College, you must accept the admission offer within a speculated time.
How to Apply for Cornerstone Christian College Online Registration
Below is the step by step application process for the cornerstone Christian College undergraduate and postgraduate admission application process.
Steps on how to submit your application
Make sure you submit all your information and select the programme you want to enrol for in the Cornerstone Christian College Online application form using the link below
Select your programme, year and semester you are enrolling for. New applicants should check admission requirements in the prospectus before choosing a programme.
Create your password (make sure you save the password or write it somewhere safe) which you will need the next time you want to log in.
Complete all the required fields completely and upload all the required documents.
Pay your application fee and upload it with the application on the portal
Your application will be reviewed by the college management.
To be eligible for admission, make sure you fill in all your information correctly and attach all the required documents.
Documents required:
Applicants are to submit a certified copy of the following documents:
National Senior Certificate or Equivalent
Tertiary qualifications including academic record(s)
South African ID /OR Passport for non-South African citizens
If you have a foreign qualification, it must have the appropriate SAQA Verification Certificate
Proof of payment of a non-refundable application fee
Please note, you are to submit only supporting documents that are applicable to you. To download these steps and checklist, click here
Contact Cornerstone Christian College
For any inquiry or questions, you can contact Cornerstone Christian College directly with [email protected]
Cornerstone Christian College Online Application
Below is the link to apply for the college application