Full Sail STEM Scholarship South Africa is given out to future Science, Technology, Engineering, and Mathematics professionals globally. In 1979 at Ohio, Full Sail University started as an audio recording workshop that gave students the opportunity (to be knowledgeable) in the entertainment industry. Afterwards, in 1989, they (Full Sail) permanently moved to Central Florida in the Winter Park location.
Full Sail is licensed by the Florida Department of Education to offer the following degrees in Art, Entertainment, Media, and Technology fields:
Associate of Science
Bachelor of Science
Bachelor of Fine Arts
Master of Science
Master of Fine Arts
Full Sail is also accredited by the Accrediting Commission of Career Schools and Colleges (ACCSC); a nationally recognized accrediting agency by the U.S. Department of Education. with School# 055214.
Full Sail STEM Scholarship for Student
The Full Sail STEM Scholarship is an international grant that is designed for the support and development of future international Science, Technology, Engineering, and Mathematics professionals nationwide.
The scholarship award will cover up to $5,000 for the tuition of a degree program eligible under this scholarship.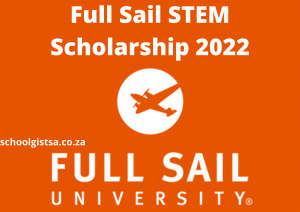 Conditions For Full Sail STEM Scholarship
Some of Full Sail STEM Scholarship South Africa conditions are:
It is non-transferable
It has no redeemable cash value but may be used with other Full Sail University scholarship programs.
The amount will be given throughout the student's academic years and will be divided equally between semesters.
This scholarship fund is limited and will remain available until depleted.
The scholarship will be cancelled if a student changes a degree program, has interrupted training or changes student status.
Scholarship Requirements and Eligibility
Applicants can only be considered eligible for the Full Sail STEM Scholarship South Africa, only if they meet the following minimum criteria;
Create an original 250-word essay on "How My Full Sail Education Will Prepare Me for a STEM Career" before the first day of class.
Applicants must be non-US citizens or non-permanent residents.
Applicants must meet the entrance requirements for the desired Full Sail University campus degree program.
How to Apply and Application Details
Applicants should carefully read and follow these details:
To apply, please contact your admissions representative at 800.226.7625.
The application must be submitted to the Full Sail Scholarship Committee before the desired start date.
A formal interview must be conducted with the Admissions representative.
Applicants' submitted essays will be evaluated based on criteria including originality, composition, clarity, and relevance to the topic.
Successful applicants will be contacted before the start of their degree program.
Closing Date
None(no closing date) until funds and bursary slots are depleted.
Contact Details
Address: 3300 University Boulevard Winter Park, Florida 32792
Telephone no: 800.226.7625