The Bheki Mlangeni Memorial Scholarship is now open for all interested applicants. You will find the scholarship details and application procedures below.
The management of Cheadle Thompson & Haysom Inc. gives out scholarships annually to South African students in memory of Bheki Mlangeni. The Bheki Mlangeni Memorial
scholarship
is worth R30 000 and is aimed at recognizing Bheki's courage and commitment as a community leader, student, and lawyer.
This is a law scholarship and it is mainly for law students.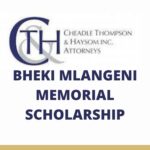 Bheki Mlangeni Memorial Scholarship Eligibility
The scholarship is awarded to a deserving South African final-year LLB student who:
is Black;
is financially disadvantaged
has demonstrated excellence in constitutional law, labor law, or administrative law; and
ready to commit to using his or her legal qualification to advance the cause of social justice.
How to Apply
Below is how to apply for the Bheki Mlangeni Memorial Scholarship; You are to submit your scholarship application form to any of the below universities:
The University of Witswatersrand
Submit your applications form to the university coordinator, Wanda Ndlozi by email at [email protected] by 18th September 2021.
OR
The University of Western Cape
Submit your applications form to the university coordinator, Vernon Johannes by email at [email protected] by 18th September 2021.
Scholarship Required Documents
Together with your scholarship application form, you must attach the following documents your BHEKI MLANGENI MEMORIAL SCHOLARSHIP application:
The name of the scholarship for which you are applying for
A motivation letter stating why you should be awarded the scholarship
Your curriculum vitae which has your student number
 Academic results (Certified copy)
Identity document (Certified copy)
Two letters of reference
Contactable telephone number(s)
Please note:
The recipient of the scholarship may be required to participate in a vacation work program at Cheadle Thompson & Haysom Inc.
Applicants will be required to sign a form authorizing the University to make their academic record available to a third party.
You are expected to submit your application form before the closing date to be eligible for the scholarship
For more information about the scholarship, you can visit the scholarship page.