UNISA has announced the 2022 UNISA Registration dates for the new academic session. You will see the full details about the registrations below.
The UNISA registration dates are open to students that fall in this category:
All new applicants and Unisa students who applied for admission to a new qualification may only register if they have received an offer of placement from Unisa and have accepted the offer online.
Unisa reserves the right to not process and/or to cancel your registration if it is found that you were incorrectly admitted to a qualification.
Re-registering students must register for the 2022 academic year during the relevant registration period.
The university provides all registered students with a free myLife e-mail address. It is the student's responsibility to activate your myLife e-mail account as soon as your registration has been finalised.
Your myLife e-mail account will be the only e-mail account recognised by Unisa for official correspondence to and from the university, and will remain the official primary e-mail address on record at Unisa.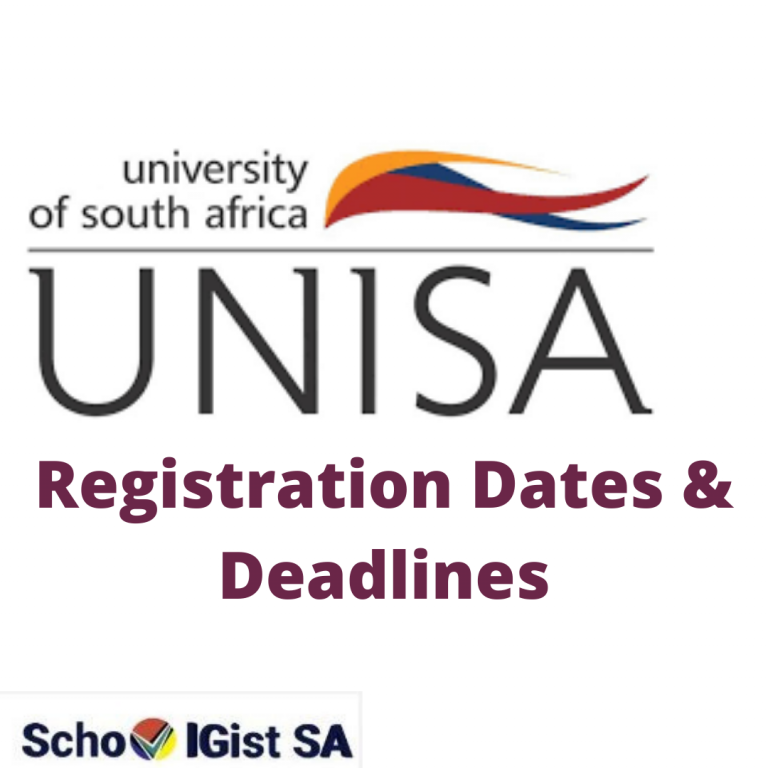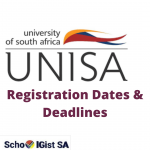 UNISA Registration dates and deadlines
Below is the UNISA Registration Dates and deadlines for all the courses available at the institution.
Higher certificates, advanced certificates, diplomas, advanced diplomas, BTech & degrees, including the Postgraduate Certificate in Education (PGCE)
Below are the UNISA registration dates and deadlines for BTech and degrees:
 
Registration opens
Registration closes
Final date for initial minimum payment so that your registration can be finalised

Final date for payment of all outstanding study fees
Undergraduate semester 1 module
4 January 2022
4 February 2022
4 February 2022
31 March 2022
Undergraduate semester 2 modules registered in semester 1
4 January 2022
4 February 2022
4 February 2022
31 March 2022
Undergraduate semester 2 modules registered in semester 2
20 June 2022
18 July 2022
31 July 2022
31 August 2022
Undergraduate year modules
4 January 2022
7 March 2022
7 March 2022
31 August 2022
Applicants can start their registration using this link www.Unisa.ac.za/register
You make an enquiry using the details below
General enquiries: study-info@unisa.ac.za
Tel: 0800 001 870
For those that have already registered login to myUnisa, to add more modules. choose the myAdmin link, click on "Student Admin" and then on "Register Additional Modules".
Honours degrees & postgraduate diplomas
Only online registrations will be accepted. for Honour degree and postgraduate diploma.
 
Registration opens
Registration closes
Final date for initial minimum payment so that your registration can be finalised
Final date for payment of all outstanding study fees
Honours & postgraduate diploma
semester 1 modules (including CTA programmes)
4 January 2022
4 February 2022
4 February 2022
31 March 2022
Honours & postgraduate diploma
semester 2 modules registered in semester 1
4 January 2022
4 February 2022
4 February 2022
31 March 2022
Honours & postgraduate diploma semester 2 modules registered in semester 2
20 June 2022
18 July 2022
31 July 2022
31 August 2022
Honours & postgraduate diploma
year modules
4 January 2022
31 March 2022
31 March 2022
31 August 2022
For an enquiry, you can contact the honours degrees and postgraduate diplomas using the details below:
College of Agriculture and Environmental Sciences: sciencehons@unisa.ac.za
College of Accounting Sciences: cashons@unisa.ac.za
College of Economic and Management Sciences: econhons@unisa.ac.za
College of Education: eduhons@unisa.ac.za
College of Human Sciences: artshons@unisa.ac.za
College of Law: lawhons@unisa.ac.za
College of Science, Engineering and Technology: sciencehons@unisa.ac.za