Umgeni Water Bursary 2022 is sponsored by Umgeni Water, South Africa. Umgeni Water; a state-owned enterprise (SOE) was established in 1974 responsible for the provision of bulk water and related services in the province.
Umgeni Water is the second-largest Water Board in South Africa, having over 1300 committed, enthusiastic, and motivated employees in different professions, trades, and occupational levels.
"Enabled and Innovative growth"-Umgeni Water's current strategic theme directs and motivates the organisation to ensure the creation of value for its customers by providing affordable, effective, innovative, and sustainable water and sanitation services.
At Umgeni Water, we look up to candidates that deliver, inspire, and transform high impact and sustained results. We also want workers/employees who are transparent and distinct in resources(entrusted to them) management and their level of commitment in delivering excellence in programme results.
Opportunities exist for dynamic and ambitious university students
with the potential to achieve relevant, academic, theoretical
technical expertise in their studies. The following students qualify for the Umgeni Water Bursary 2022:
Students that are willing to further their students but lack financial capacity/funding to do so.
Students with strong schooling previous year(s) academic records (which you must have maintained throughout the year) or a current student who cannot afford to continue paying for his/her studies.
For the 2022 academic year, Umgeni Water is hereby inviting students applications for the Bursary Programme. Students that will be accepted to this program must have completed their first academic year of study.
Applicants eligible must be South African citizens studying on a full-time basis at a recognized South Africa tertiary institution. The bursary awards are offered only to students in the 2nd, 3rd, or 4th year of study.
After the application, successful students are expected to enter into a bursary contract with Umgeni Water. The agreement contains all general provisions related to the Bursary Programme, which is primarily aimed at developing professional engineers and scientists.
N.B: Please note, students whose permanent residence place is within KwaZulu-Natal Province, will be given first preference.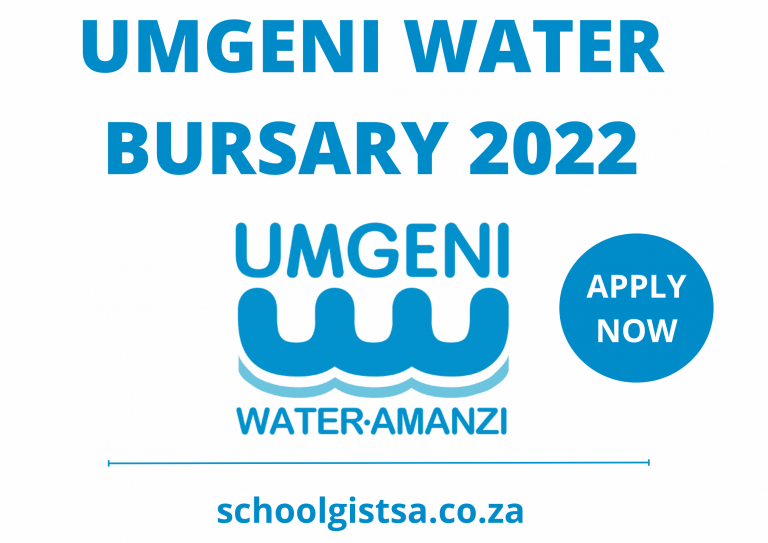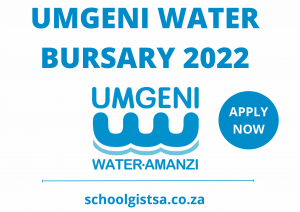 Umugeni Water Bursary Coverage
The Umugeni Water Bursary 2022 covers the following:
Accommodation
Meals
Prescribed textbooks
Stationery
Tuition
Registration
Eligible Field of Study
The following fields of study are eligible for the Umugeni Water Bursary 2022:
Bachelor of Science: Biochemistry/Chemistry 1
Bachelor of Science: Environmental Science/Ecology/Biology 1
Bachelor of Science: Chemical Engineering 2
Bachelor of Science: Hydrology 2
Bachelor of Science: Electrical Engineering 2
Bachelor of Science: Mechanical Engineering 2
Bachelor of Science: Civil Engineering 2
Bachelor of Science: Computer Science/ Data Science/ Cyber Security 3
How to Apply for Umugeni Bursary
Candidates should carefully read the following when applying for Umugeni Water Bursary 2022.
Students can purchase the Bursary Application Form from the institution Bursary Office and the Umgeni Water website: www.urgent.co.za.
Clear certified copies of the following supporting documentation should be submitted directly to this mail: graduaterecruitment@umgeni.co.za, for the attention of Skills Development Facilitator-Ms Nokuphiwa Mkhize.
N.B: Kindly note, at Umgeni water's office, no physical applications will be accepted. All applications must be submitted with the above-stated documents. Also, Female students are eligible to apply.
In the context of Employment Equity criteria, awarding of the bursary will be issued.
Required Documents for Umgeni Water Bursary 2022
Applicants are required to submit clear certified copies of the following supporting documents:
Proof of physical home address: A letter from the Traditional Authority Offices for those residing from the villages and a letter from the Municipality Offices for those of Town/Townships / Farms (statement of account, e.g.
a water bill will not be accepted.).
 Certified copy of Valid South African ID document
(student).
Matric certificate and current academic record (Statement of
results) not older than 3 months.
4. Certified copy of proof of registration.
5. Motivation letter from the student.
6. Proof of parent (s) or guardian income (salary payslip). In the case of deceased parent(s), attach a copy of the Death Certificates.
N.B: Failure to submit all or any missing items will lead to your application not being considered.
Contact for the Bursary
For more information or queries about this bursary program, kindly contact directly:
Tel no: 033 341 1208 / 1118
Closing Date
The Umgeni Water bursary 2022 closes on Friday, December 31st, 2021.