Application is now open for eligible students to apply for The Sigma Trust Bursary 2022. The application details are below.
Closing Date: 31 August 2021
The Sigma Trust is inviting eligible South African female students that want to pursue a degree in Information and Communication Technology (ICT) to apply for this bursary. This bursary will be awarded to a female student with the best qualification.
The Signa Trust bursary is aimed at encouraging and empowering young female students to pursue a career in ICT. The winner of the bursary will be selected by the Signa Trust board of trustees and they will be contacted by the board through telephone.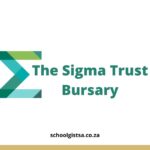 The Sigma Trust Bursary Value
The bursary will provide the following for the winner: tuition fees for a 3 year ICT Degree, prescribed books, a PC, accommodation, and monthly stipend.
Requirements
Applicants must meet the following requirements to be eligible for this bursary. Failure to meet all the below requirements will make your application ineligible; They are:
Female students
Be a South African citizen or a South African legal resident
Female students between age 18 to 35 years
You must have completed Matric
You must have achieved good results (above average) in Matric
You must be from a disadvantaged background
Have an interest in pursuing an Information & Communications Technology (ICT) degree qualification
In no way must be applicant be associated with the Signa Group or Signa Trust (including director, member, partner, employee, acquaintance, agent, consultant, etc)
How to apply
Applications to this bursary are done on Signa Bursary Application 2022
Fill the application letter correctly and submit the following certified documents with the application form. Failure to submit all the required documents, your application will not be considered;
ID document or both sides of ID card
Passport and proof of residency, if not a citizen
Matric Certificate
Most recent academic record or results from 2020 studies
Parents/ guardians proof of total household income (latest payslips or affidavit if employed, affidavit if unemployment, proof of pension, or Sassa grants if applicable)
Proof of disability, if applicable
Applicants are required to submit a motivation letter stating why they should be selected for the bursary.