The application for the TETA Scholarship at World Maritime University (WMU). You will find the application details and other information below.
The Transport Education Training Authority (TETA) is responsible for assisting in training and skills development within various economic sectors, with a focus on the Transport Sector.
The World Maritime University, WMU was established by the International Maritime Organization (IMO). It offers postgraduate courses and also undertakes wide-ranging research in maritime and ocean-related studies. The institution also continues maritime capacity building in line with the UN Sustainable Development Goals.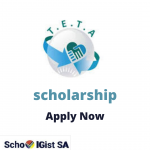 TETA & WMU SCHOLARSHIP PROGRAMME: FIELDS COVERED
The Transport Education and Training Authority, TETA Scholarship management is inviting all eligible candidates in the following field of study to apply for their scholarship. The scholarship will cater for students that want to study for an MSc in Maritime Affairs at the World Maritime University (WMU) in Sweden, Malmo.
This scholarship is open to all South Africans that are employed within the broader maritime sector.
The MSc programme will take place for 14 months which will start from September 2022 and end by November 2023. This programme will be divided into three phases which are:
Foundation Studies: This stage gives students a thorough grounding in maritime policy and the IMO system for maritime governance, as well as an introduction to the environmental, economic, and managerial aspects of the ocean. This is the point where students will also start the preparation for their dissertation on the research methodology subject.
Specialization Studies: At this stage, students will have to choose 1 of the 7 available specializations, which are:

Maritime Education & Training,
Maritime Energy Management,
Maritime Law & Policy,
Maritime Safety & Environmental Administration,
Ocean Sustainability,
Governance & Management,
Port Management or Shipping Management & Logistics

Dissertation: All students will complete a dissertation based on an issue relating to their specialization in their home country or on a current or emerging maritime issue. Students dissertation topics and proposals will be approved by the University and may involve original research or be an analysis of a topic based on secondary sources. Students have the option to complete the dissertation individually, in pairs or in trios.
ELIGIBILITY REQUIREMENTS FOR THE TETA & WMU SCHOLARSHIP
To benefit from this TETA scholarship, all applicants must meet the following eligibility requirements. The requirements are as follows:
Applicants must be a South African citizen
Already was accepted by WMU to study
You must be currently employed for at least a period of 12 months with the same employer
Have at least 3 years of experience in the maritime sector in South Africa
Applicants must receive consent from their current employer for them to partake in the programme and be allowed to return to work after completion of the programme
Preference will be given: to female candidates and middle managers
HOW TO APPLY FOR THE TETA & WMU SCHOLARSHIP
The application for the WMU scholarship is done online at WMU Scholarship Application 2022
You can get more information regarding this scholarship here.
Supporting Documents
To be eligible for the TETA scholarship, applicants must submit a certified copy of the following documents. Make sure you submit a scanned clear copy together with your online application form.
Completed WMU application for admission (with your Matric certificate attached)
ID document
Passport, if available
Application for a passport, if the passport is not yet available
TETA Motivational Statement (available here)
A letter of support from your current employer to give their consent for you to partake in the programme and will be allowed to return to work after completing the programme (sabbatical or unpaid leave could be considered)
Application for Financial Support form completed by your employer which is available here. The application must be mailed to msc@wmu.se
Signed Terms and Conditions of the Scholarship which are available here.
Note: you can submit documents you did not submit during the online application via email to msc@wmu.se
CLOSING DATE FOR THE TETA & WMU SCHOLARSHIP
The closing date for the TETA Scholarship is 6 May 2022. Failure to submit your application letter and all other supporting documents will render your application unsuccessful.
CONTACT THE SCHOLARSHIP PROVIDER
If you have any question regarding the scholarship, kindly contact the Transport Education and Training Authority (TETA) directly using the details below:
Contact person: Mr Malcolm Alexander
Tel: 021 819 9606
Email: malcolm@teta.org.za