Application is now open to students that want to apply for the South African Translators' Institute, SATI Bursary. The application details and other information will be shared below.
The management of the South African Translators' Institute has called on all eligible students in South Africa to apply for the ongoing SATI Bursary. The bursary eligibility requirements and other information will be shared below.
South African Translators' Institute was established in 1956 and serves as a professional association for language practice professionals in South Africa.
This organization aim to establish a multilingual culture in South Africa and develop translation and interpreting in all 11 South African languages which are English; Afrikaans; IsiXhosa; IsiZulu; IsiNdebele; Xitsonga; Tshivenda; Sesotho; Setswana; Sepedi and SiSwati.
The SATI Fund can be traced back to 1993 when it formed a Development Committee with the aim to collect funds that will be awarded to outstanding students that are pursuing a career in translation or interpreting studies.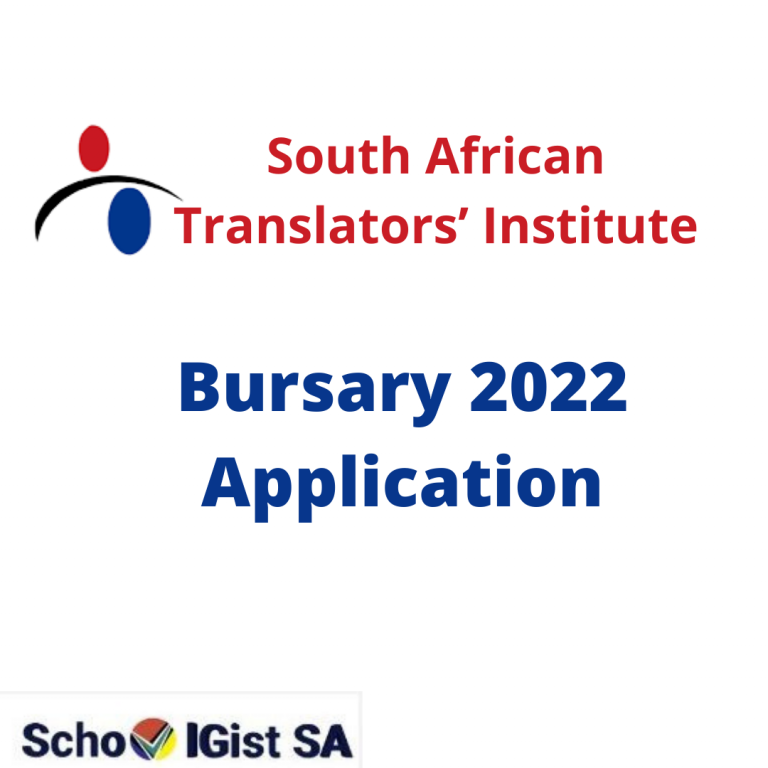 SATI BURSARY PROGRAMME FIELDS COVERED
The South African Translators' Institute Bursary management is calling on all students in the eligible field to apply for the ongoing bursary.
The SATI Bursary will be awarded to undergraduates in the following field of study; Translation, Interpreting and/or other aspects of Language practice.
BURSARY PROGRAMME – COVERAGE VALUE
SATI bursary is a partial bursary awarded with a value of R10 000 and it will be paid in two equal instalments. At the start of the first semester, 50% will be paid and the rest will be paid second semester after SATI have receive the recipient first semester eam result. Recipient must have a minimu average of 65% in all language practice courses.
The selection creteria are financial nees, student academic results, previous SATI awards, professional engagement and languages combinations.
ELIGIBILITY REQUIREMENTS FOR THE SATI BURSARY
To be eligible for the SATI Bursary, applicants must meet the following requirements. Failure to meet the requirements will render your application unsuccessful.
Below are the requirements:
Open to all South African citizen
Open to applicants studying towards a qualification in Translation, Interpreting and/or other aspects of Language practice
Applicants must be in their 2nd, 3rd or 4th year of study (1st-year students will NOT be funded)
Applicants studying at a recognised tertiary institution in South Africa
Achieved a minimum overall average of 65% for all subjects in language practice, for the previous academic year
You must NOT have failed any subjects you registered for in the year that they receive the bursary
You must work in combinations of the South African official languages
Those in financial need
Must NOT be a beneficiary of any other bursary or grant that covers the same expenses as the SATI bursary
Applicants must be able to take care of the expenses not covered by the SATI bursary, for the rest of the year
HOW TO APPLY FOR THE SATI BURSARY
To apply for the Bursary, applicants will have to download and complete the SATI Bursary Application Form 2022 (.docx)
After filling out the application form, applicants are to attach a clear certified copy of the following documents with their application form. Failure to attach the supporting documents will render your application unsuccessful.
Below are the documents:
South Africa ID document
A copy of the Matric certificate
Academic qualifications com, if applicable
Full tertiary academic record or transcript
Proof of registration at a tertiary institution for 2022 on institutions letterhead.
Evidence that applicants can cover other expenses NOT covered by the SATI bursary
Details of other awards/ funding received or expect to receive
Evidence that you are not in possession of any other bursary awards/ funding that will cover the expenses that the SATI bursary would
Note: Those that did not have their 2021 final examination result available should state when they will have it. All successful applicants will have to submit proof of registration at a South Africa recognised institution for the 2022 academic year.
The Application form and the supporting documents should be scanned and submitted via email to: sati2assist@translators.org.za
(Use the words "SATI Bursary Application 2022" in the email subject line).
CLOSING DATE FOR THE SATI BURSARY
The closing date for the bursary is 31 March 2022. All applicants should make sure they submit their application form and other required documents before the closing date. Any application submitted after the closing date will not be considered.
CONTACT THE BURSARY PROVIDER
For any question relating to this bursary kindly contact South African Translators' Institute (SATI) directly using the details below:
Contact person: Theresa Bender
Email: office@translators.org.za