Application is now open for eligible candidates to apply for the Royal HaskoningDHV Bursary 2022. The application details are below.
Royal HaskoningDHV is providing a bursary for students of South Africa. The company was established in 1922 and was first known as "SSI Engineers and Environmental Consultants". The company has undergone many name change, the last one was in 2012 as a result of the merger of two companies, DHV and Royal Haskoning.
The Royal HaskoningDHV is an independent international engineering consultancy company that is specialized in mining, water, energy, aviation, building, infrastructure, industry, urban and rural development. The company has its headquarter in the Netherland.
The company currently has branches in 30 countries across the globe and has more than 6000 staff members.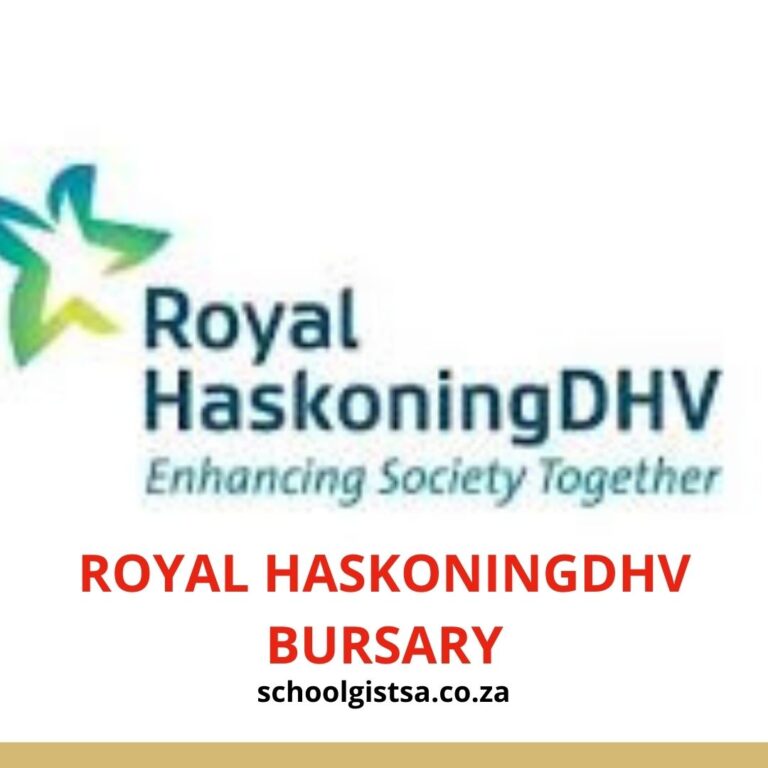 ROYAL HASKONINGDHV BURSARY ELIGIBLE FIELDS & COVERAGE VALUE
The bursary is for students currently studying towards a BSc or B Eng in one of the following fields;
Civil Engineering
Electrical Engineering
Mechanical Engineering
The bursary will cover tuition fees related expenses.
ELIGIBILITY REQUIREMENTS
Applicants of this bursary must meet all the following requirements to benefit from this bursary:
Must be a South African citizen
Current Matric students must:

Achieved a minimum 5 symbols for Physical Science and Mathematics
Achieved a minimum overall average of 65%
Be studying towards any of the above courses
Admitted at a recognized South African University

Current University students:

Completed Matric
Achieved a minimum of 65% overall aggregate
Studying one of the above courses (1st/ 2nd/ 3rd year)
Studying at a recognized South African University

Preference will be given to students from designated groups
Have strong academic potential
Proven financial need
Possess Excellence, Integrity, Brightness, and Team spirit
HOW TO APPLY FOR THE BURSARY
The mode of applications is online at: http://rhdhv.bursaries.erecruit.co.za/candidateapp/Jobs/Browse.aspx
First, you will have to register here (http://rhdhv.bursaries.erecruit.co.za/candidateapp/Register) first before you register with the above link.
After registering, login in here and start the application: http://rhdhv.bursaries.erecruit.co.za/candidateapp/Login
You are to submit the following documents with your application form to be eligible for this bursary. The documents must be submitted before the closing date, failure to submit all the documents will make your application not eligible;
ID document (certified copy),
Grade 11-year end results for Matric student
Matric certificate for university student
Recent academic results from university/ if no exams were written, a progress report
Proof of registration at university for the relevant course
Proof of parents/ guardians income or death certificate if deceased
Motivational letter
CONTACT THE BURSARY PROVIDER
You can contact the bursary provider using the details below;
Contact Person: Caryn Main (Learning and Development Manager)
Tel: 011 798 6456
Email: Caryn.Main@rhdhv.com