The Public Investment Corporation (PIC) Bursary 2022 is a bursary program sponsored by The Public Investment Corporation SOC Ltd in order to sponsor south African citizens with disabilities.
The Public Investment Corporation SOC Ltd (PIC) is owned by the South African Government(a publicly owned company). Also, it is the only South African investment management company, whose focus is solely on the public sector.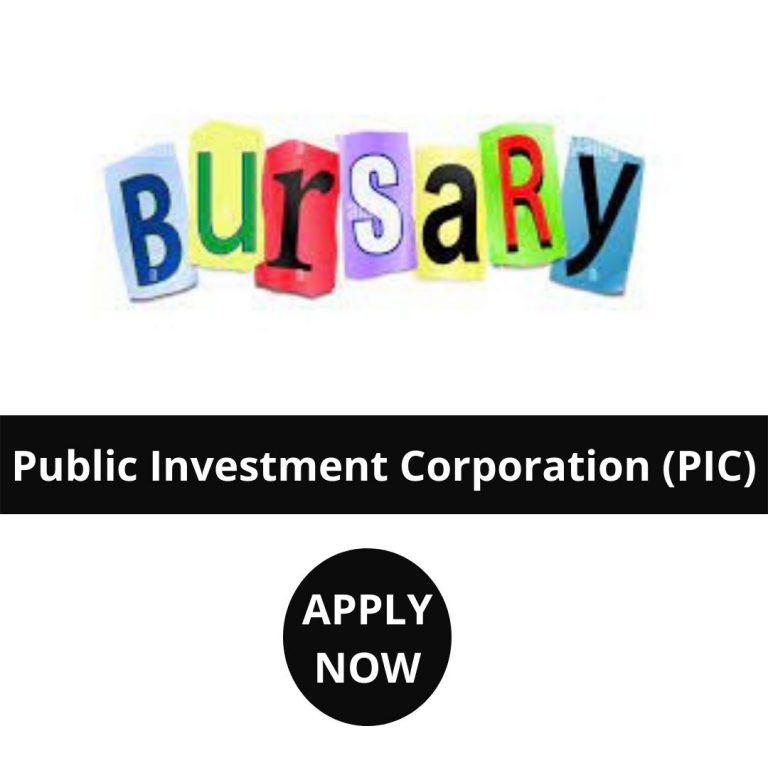 PIC, as a leading investment management company in Africa, has top clients and they include:
The Unemployment Insurance Fund (UIF)
The Compensation Commissioner Fund (CC)
The Associated Institutions Pension Fund (AIPF)
The Government Employees Pension Fund (GEPF)
The Compensation Commissioner: Pension Fund (CCPF)
THE PUBLIC INVESTMENT CORPORATION (PIC) BURSARY FIELDS COVERED
For the 2022 academic year, The Public Investment Corporation (PIC) Bursary is inviting students living with disabilities to apply for bursary funding.
The bursary will be awarded within these fields for undergraduate studies:
Accounting
Actuarial Science
Auditing
Computer Science
Data Analytics
Economics
Finance
Graphic Design
Human Resources
Information Communications & Technology
Internal Auditing
Investment Management
Law
Mathematical Statistics
Research
Risk and Compliance Management
COVERAGE DURATION & SELECTION
Until studies are complete, the PIC bursary will be awarded for the full academic duration (only for studies at a single academic institution).
By 31st January 2022, shortlisted candidates will be reached out to.
Applicants should kindly note and consider their application unsuccessful if they do not receive any update and feedback from the above-stated date.
ELIGIBILITY REQUIREMENTS FOR THE PUBLIC INVESTMENT CORPORATION BURSARY 2022
To be eligible for the PIC Bursary, applicants before applying must meet the following minimum entry criteria:
P.S: Applicants should note that failure to meet the following requirements will lead to your application not being considered
Applicants must be South African citizens.
Applicants must have completed Matric or must be currently in Matric.
Applicants must be under 30 years of age.
Applicants must be living with a disability.
Applicants must be studying or intend on studying towards a full-time, towards an undergraduate qualification in one of the fields listed above.
Applicants must be starting their first undergraduate qualification in 2022.
Applicants must be registered to study at a recognized and accredited institute of Higher Learning in South Africa.
Applicants must have a strong academic record.
Applicants must be unemployed.
Applicants must be in financial need.
Applicants must be previously disadvantaged students from the designated group.
HOW TO APPLY FOR THE PIC BURSARY 2022
Applicants must follow these steps when applying for the Public Investment Corporation (PIC) Bursary:
Applications must be submitted online at:
Public Investment Corporation (PIC) Bursary Application 2022
Applicants will be required to Register an Account before they can log in and apply.
Applicants while applying should submit clear copies of the following supporting documentation. Compulsorily, all items must be submitted; any missing items will lead to your application being disqualified:
ID document (certified copy)
Grade 11 final results and Matric June results, if currently in Matric (certified copies)
Matric certificate, if completed Matric (certified copy)
Latest academic transcripts, if currently studying at tertiary level (certified copy)
University acceptance letter/ preliminary acceptance letter (on institutions letterhead)
Quotation stating fees payable (tuition, prescribed textbooks, accommodation in residence and meals) (on institutions letterhead)
Signed student loan agreement or contract, if applicable
Proof of disability (medical certificate)
Proof of monthly household income and dependents (latest payslips if employed, affidavit if unemployed, affidavit stating annual income if self-employed, death certificate if deceased, SASSA letter if receiving a grant, court letter stating child support amount if parents are divorced, affidavit from parent stating child support amount received if parents are separated)
Note:
Documents must have been certified within the last 3 months.
If the applicant is under 18 years old, application forms must be signed by the applicant, or by a parent or guardian.
CLOSING DATE FOR THE PIC BURSARY
The PIC Bursary closes on 24th December 2021.
P.S: Late applications will not be considered. Applicants should app before the closing date to ensure their application gets considered.
CONTACT THE BURSARY PROVIDER
For more info or any queries related to the PIC bursary program, kindly contact the Public Investment Corporation (PIC) directly:
Telephone no: 012 742 3400
Email: bursaryapplications@pic.gov.za
Applicants when submitting an inquiry should kindly ensure they include their contact details so that PIC can respond to them as soon as possible.