Application is now open for students that want to apply for the Poliomyelitis Research Foundation Bursary. We will share with you the application details below.
If you are looking for a funding opportunity for your tertiary education, the Poliomyelitis Research Foundation Bursary is providing you with an opportunity to get funded.
In order to conduct poliomyelitis (polio) illness research, the Poliomyelitis Research Foundation (PRF) was established as a non-governmental organization in the late 1940s. The incorporated association is dedicated to assisting with projects that would advance medical virology in South Africa.
Senior virologists, representatives from industry and business, as well as a Scientific Advisory Panel made up of the heads of university virology departments from all across South Africa, manage the Foundation.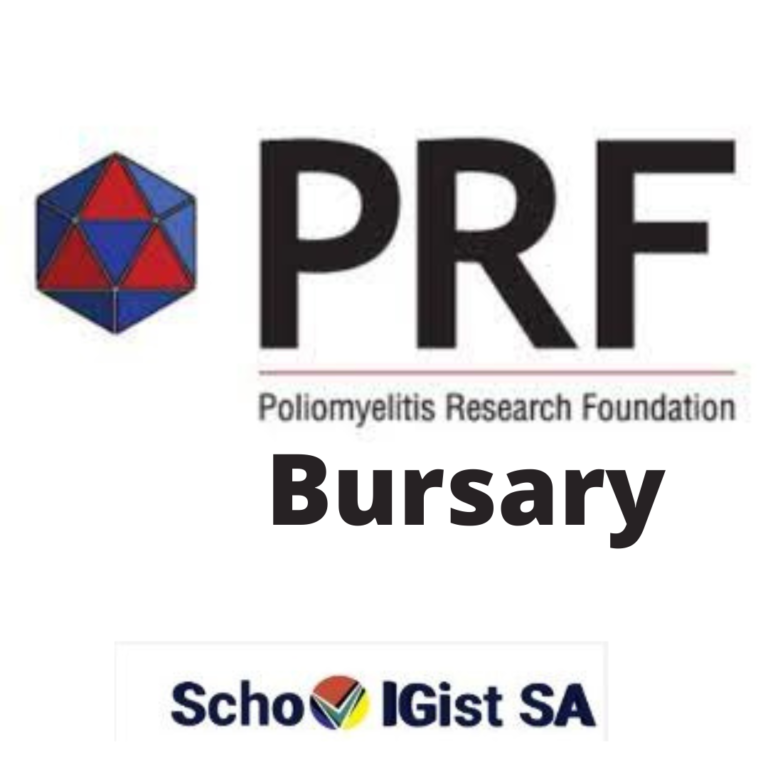 The PRF awards scholarships, research grants, travel grants, and fellowships to outstanding students each year. Over R144 million in research funds have been awarded by the Foundation between 1977 and 2016, with over R44 million going into bursary grants.
ABOUT THE PRF BURSARY PROGRAMMES – FIELDS COVERED
The Poliomyelitis Research Foundation, PRF calling on all students applying for postgraduate students to take part in the bursary application for the 2022 academic year.
The bursary is available for students interested in Research into Virology, at BScHons, MSc and PhD levels.
COVERAGE VALUE
The degree of the qualification being pursued will determine the length of the bursary award: Masters students can receive financial aid for up to two years, while PhD students can receive financial aid for up to three years (unless an exceptional circumstance).
ELIGIBILITY REQUIREMENTS FOR POLIOMYELITIS RESEARCH FOUNDATION, PRF BURSARIES
There are basic requirements students must meet to be eligible for the Poliomyelitis Research Bursary. It is compulsory for students to meet all the requirements to be eligible. Below are the requirements:
Must be a South African citizen or a permanent resident in South Africa
Studying for one of the aforementioned postgraduate Virology qualifications
You must NOT be employed full-time
BSc (Hons) and Masters applicants: you must have achieved a minimum overall average of 60%
BSc (Hons) applicants: preference will be given to previously disadvantaged students
HOW TO APPLY FOR PRF BURSARIES
Students are to download and fill out the relevant application form below to start their application:
NEW APPLICATIONS:
RENEWALS (current bursary recipients):
Together with your application form above, you are to attach some supporting certified documents to be eligible for the bursary. It is compulsory for all to attach a certified copy of the supporting documents to their application form. The supporting documents are below.
NEW APPLICATIONS:
ID document
Proof of permanent residency if not a South African citizen
Full tertiary academic record, including most recent results on institutes letterhead
Curriculum Vitae, including publications maximum 2 pages
A full scope of your proposed research project
Literature review
Supervisor's written support
RENEWALS (current bursary recipients):
Most recent academic record on institutes letterhead
Supervisor's written support
Note: The application forms must be filled in on the computer (i.e. typed and not handwritten).
You are to submit the application letter and the supporting documents to the mail prf@nicd.ac.za
(use "PRF Bursary Application 2022" in the email subject line).
CLOSING DATE
The PRF Bursary application closing date is 28 February 2022 and 15 September 2022. No application submitted later will be accepted.
CONTACT THE BURSARY PROVIDER
You can contact the Poliomyelitis Research Foundation (PRF) directly for all queries and information regarding the bursary:
Contact Person: Mrs Irma Latsky
Tel: 011 555 0395
Email: prf@nicd.ac.za