Here are the details on how to check your Stellenbosch University Examination Results for 2021/2022. Read the information below carefully to check your Stellenbosch Examination Results.
The
Stellenbosch University
management has released the 2021/2022 examination results for students to check. All students results are now available online for all students to check.
Students will receive their examination results either verbally or telephonically. However, you can obtain your results using the following means:
Your final examination results will be posted to you, make sure your postal address is correct.
On the official notice board on the campus where you registered.
Stellenbosch University electronic answering system
You can find it on the Stellenbosch University website.
All students with outstanding fees and/or library material results will not be published until they pay their outstanding fees or return the library materials. However, their supplementary examination results will be published even if there are outstanding fees or library material.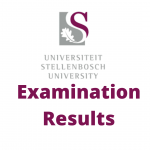 HOW TO CHECK YOUR STELLENBOSCH UNIVERSITY EXAMINATION RESULT
Follow the steps below to check your Stellenbosch examination results:
On your browser visit the website: https://sso-legacy.sun.ac.za/cas/login?service=https://web-apps.sun.ac.za/AcademicResults/shiro-cas
Input your "student number" and ITS PIN, and click on "Login" to view the available results.
You can then view the status of your matric result.
Result Enquiry
Students should make all examination inquiries at the Student Services on the campus where they register with 30 days of the result publication. All applications submitted after the official closing date will not be considered unless the applicant pays the penalty fee for late application is paid.
All application is subjected by the Registrar or his or her designate using the examination rules and regulations.
The above information will guide you to check your Stellenbosch University examination results.