The application is now open for the GSK Finance Graduate ProgrammeOld Mutual Graduate Internship 2022 2022. All interested graduates can now proceed to apply for the programme.
All unemployed graduates in Gauteng are invited by the GSK Finance Graduate Programme to take part in the ongoing programme. Check the details below to know more about the programme.
Company: GlaxoSmithKline (GSK)
Date Listed: 27 January 2022
Job Type: Graduate Internship
Location: Johannesburg, Gauteng, South Africa
Closing Date: Unknown
All financial graduates are invited to be part of the team that will be responsible for South Africa payment processing, month-end reporting, assisting with planning activities and other activities. Also, you will be responsible for quality financial processing and make sure that systems and tools are introduced and maintained to support businesses and cross-functional teams.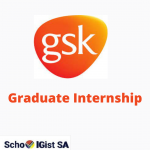 Responsibilities:
Interns will be responsible for the following:
Proactively follow up with distributors, regarding outstanding documents.
Prepare GL postings that correctly reflect the nature of the transaction for completed payments and timeously submit them to the Finance Shared Services team
Preparation of monthly Aspen journals including sales recon.
Preparation of monthly headcount report.
Preparation of the Advertising & Promotion (A&P) expense tracker and the Opex tracker on a monthly basis
Assist the SA Finance business partner with the monthly forecasting and annual budgeting of headcount, CAPEX, and depreciation of new CAPEX.
Ensure that there are SOPs / Knowledge Documents to support the systems and processes.
Completion and acknowledgement of relevant SOP's and e-learning
Maintain  ERP data in SAP
Prepare and participate in ad-hoc analysis and projects as required.
Ensure adequate financial control systems and processes are in place
Ad-hoc data analysis
Partnering with business to explain SG&A spend variances
GSK Finance Graduate Programme Requirements
Below are the requirements graduates must meet to be eligible for the GSK Finance Graduate Programme:
Basic Qualifications:
Minimum BCom (Accounting), Preferably completing CIMA qualification
Experience in MS Office (Good working knowledge of Excel)
Preferred Qualifications:
Understanding of Financial and Management Accounting concepts
Knowledge of IFRS (International Financial Reporting Standards)
Ability to grasp concepts quickly and take ownership of own learning
Display initiative by proactively seeking solutions to challenges
Must be able to work overtime as and when required
Good written and spoken English
High achieving and ambitious graduate with a desire for a career in finance
Committed to gaining your CIMA qualification (company-funded)
Must be self-motivated and proactive with a questioning and analytical mind
Must be able to multitask and perform under pressure
Must have good relationship skills
Benefits of the programme
Opportunity to hone your finance skills on a tailored development programme
Work in a multicultural environment in a leading global healthcare organisation
Opportunity to work with the inspired team to achieve sucess
How to Apply
The application for the programme is online using the link below:
APPLY ONLINE FOR A FINANCE GRADUATE INTERNSHIP