The Gold One Bursary South Africa 2022 is sponsored by the Gold One Group Limited; a mining group with gold operations and gold prospects throughout Southern Africa.
Within the Ekurhuleni Metropolitan Municipality; approximately 30kms from Johannesburg, the Gold One Modder East Operation is the company's flagship gold mine located in Springs.
Due to its shallow nature (between 300m to 500m below the surface), the Modder East gold mine is unlike any other gold mine in South Africa and was commissioned in 2009.
GOLD ONE BURSARY ELIGIBLE FIELD
Students or applicants from the Ekurhuleni Metropolitan Municipality are being invited by the Gold One Modder East Operations, to apply for the 2022 academic year external bursary award.
Within the following fields only will the Gold One bursary be awarded:
Finance
Geological and Earth Sciences
Mechanical Engineering
Metallurgical Science
Mining Engineering
N.B: Listed in alphabetical order, The City of Ekurhuleni Metropolitan Municipality includes the following towns/ cities:
Alberton
Bedfordview
Benoni
Birchleigh
Boksburg
Brakpan
Clayville
Daveyton
Dunnottar
Edenvale
Geduld
Germiston
Katlehong
Kempton Park
Kwa-Thema
Machenzieville
Nigel
Olifantsfontein
Springs
Tembisa
Tokoza
Vosloorus
Vorsterkroon.
BURSARY COVERAGE VALUE & SELECTION
The Gold One Bursary will cover the following expenses:
Examination fees
Prescribed books
Tuition fees
University administered accommodation for full-time students.
The bursary will NOT cover the following expenses (which will be from the student personal account):
Short courses
Meals
Monthly stipends/ living expenses
Transport
An interview and screening will be conducted based on their academic performance and must be attended by shortlisted candidates.
N.B: Within 30 days, if you do not receive any positive feedback, kindly regard your application as unsuccessful.
ELIGIBILITY REQUIREMENTS FOR THE GOLD ONE BURSARY
The following minimum entry criteria must be met by applicants before applying for the Gold One Bursary South Africa 2022:
Applicants must be South African citizens.
Applicants must reside within the Ekurhuleni Metropolitan Municipal areas.
Applicants must be studying or registered to study towards a qualification in one of the fields above.
Applicants must be studying or registered to study at a South African recognized tertiary institution.
Applicants must have no criminal record.
Preference will be given to students residing within mine hosting communities (Springs, Benoni, Brakpan, and Nigel, as well as townships of these towns).
N.B: Failure to meet the above-stated requirements will lead to your application not being considered.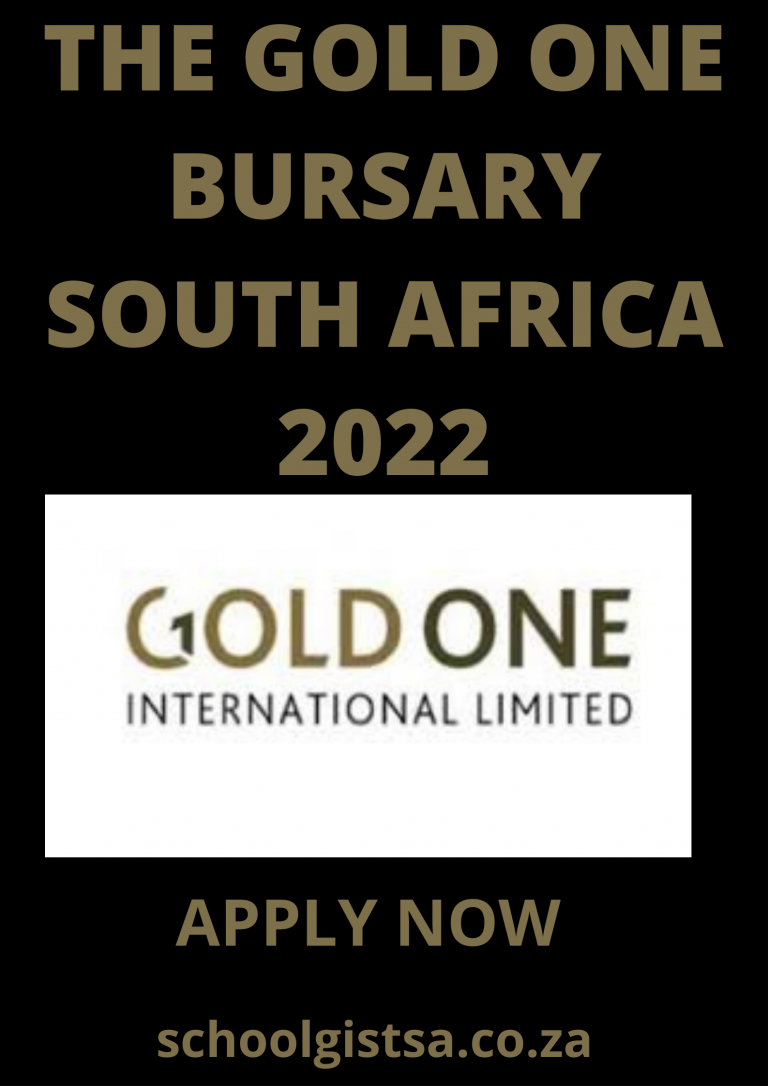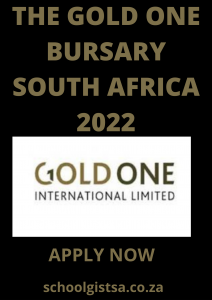 HOW TO APPLY FOR THE GOLD ONE BURSARY
The applications for the bursary must be submitted online at Gold One Bursary Application 2022
Candidates will be required to Register an Account before they can Login and apply.
Applicants are required to submit clear copies of the following supporting documentation along with their application.
N.B: Compulsorily, applicants must submit a certification of these documents for their application to be processed.
ID document
Proof of tertiary registration
A formal quotation for all study-related expenses (certified copy)
Proof of parents or guardians household income (latest payslips if employed, affidavit if unemployed, proof of pension or grant if applicable)
Proof of residence
CLOSING DATE FOR THE GOLD ONE BURSARY
The Gold One Bursary South Africa 2022 closes on 10th December 2021.
N.B: Applicants must apply before the closing date to ensure their application gets considered. Application submitted after this date will not be considered.
BURSARY CONTACT INFORMATION
For further information, inquiries, and queries related to this bursary program, kindly contact Gold One directly:
Recruitment Department
Tel: 011 730 7600
Email: bursary@gold1.co.za / Communications@gold1.co.za