The online application for Gauteng Department of Education: GDE admissions 2022 is now open for grade 7 and grade 8 admissions are open for the 2022 academic year. Applications are open from 10th August-3rd September 2021.
The application can be done by parents to 5 schools maximum. While applying within 7days, supporting documents must be submitted along with the application.
While applying for the GDE admissions 2022, parents are advised to use a reachable and reliable cellphone number, this is to enable the Department to send regular SMSes to the registered cell phone number.
Application assistance will be rendered at the decentralized walk-in centres (set up by the department), available from 08:00 to 16;00.
The basis of first come first serve is not applicable for placing learners in schools for this application. therefore parents need to worry less.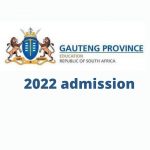 The Gauteng Department of Education
All learners in the province are entitled to basic education com[ulsorily from The Gauteng Department of Education, as they are mandated to. Also, learners with special needs and early childhood education are not left out.
The Department therefore; seeks to provide for all learners in the Gauteng Province, access to quality teaching, learning, and assessment.
APPLICATION PHASES UPDATES
Current GDE Admissions Phase: Application Period
During this period, offers of placement via SMS will be have been received by parents. Parents may get to receive offers from all schools they applied to if spaces are available.
Parents will be notified by the system when further offers are unavailable. Acceptance of offers should be done within 7 days by parents to avoid the offers being forfeited. The latest offer accepted will cancel all previous offers
Placement of Unplaced Learners by Districts 
During this period, all learners are placed at schools with available space because they could not be placed in schools they applied to (as a result of all spaces being full or not meeting the admission criteria).
How to Apply for GDE admissions 2022
A step-by-step guide released by the department will help through the application process for GDE admissions 2022:
Parents or legal guardians can log on to the system at www.gdeadmissions.gov.za and follow these easy steps to apply successfully:
STEP 1: Enter details of a parent
STEP 2: Enter learner details
STEP 3: Apply to a school with available space
GDE admissions intake
GDE admissions  register
online registration for grade 8
grade 1 registration
GDE online admissions for
www.gdeadmissions.gov.za registration online
GDE admissions grade 1
GDE admissions problems
CONTACT INFORMATION
For further inquiries or questions, kindly contact, the Gauteng Department of Education via:
Email: gdeinfo@gauteng.gov.za(link sends e-mail)
Call: 0800 000 789 | 011 355 0000.