When it comes to job provision, the Gauteng Department of Education is doing a great job. A large number of South Africans are desirous to work with this department. 
The department was established in 1994 by the Gauteng government to focus on primary and secondary education within the Gauteng province of South Africa. This department ensures that all students in Gauteng perform well at school and leave their institutions with the values, knowledge, skills, and qualifications that will give them the best chance of success in the future. 
The department works on ensuring that excellent learning and teaching take place in the classroom every day. However, the department also contributes to the alleviation of unemployment in South Africa as it is normally known to recruit a large number of people to various vacant posts every year. 
It is the time of the year again, Gauteng department is calling out to everyone that has been preparing for the department's recruitment for a long time. The department currently has multiple Vacancies such as the post of senior administrative officer, deputy director-general, transport officer, client information clerk, assistant director, and so on. Therefore the interested ones are enjoined to avail themselves of this great opportunity.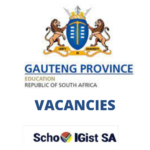 Gauteng Department Of Education Vacancies And Their Requirements
Here are some of the Gauteng Department of Education vacancies.
Administrative Officer
As an administrative officer, you are required to; 
Help in Master Data Cleansing and quality assurance activities.

Help in quality assuring and verification of  Education data with Provincial Education Departments and other relevant stakeholders for reporting and dissemination.

Work jointly with related teams to communicate and drive data cleansing activities.
Requirements 
  Senior Certificate or equivalent qualification.

Two years of relevant experience in Data Management or related work.

Strong verbal and written communication skills.

 Potential to work with large datasets, data verification, and analytical skills.

Potential to work without supervision.

Good IT skills in programming, systems development, and insight into the latest developments in the field of Information Technology.

Potential to meet targets and deadlines. 

Innovative skill.
Deputy Director-General 
The responsibilities of the deputy director-general include;
Coordination of Business and Parliamentary processes.

 Supervision and reporting on the implementation of department policies, programs, and initiatives.

Management of communication services of the Department.

Management of  International Relations in the Department.

Coordination of intergovernmental and stakeholder relations and strategic partnerships.
Requirements
Relevant undergraduate qualification (NQFlevel 7) and post-graduate qualification as recognized by SAQA.

 8-10 years of experience at the senior management level, coupled with proven experience in providing support to the office of the Director-General.

A valid driver's license

Confidence, trustworthiness, accuracy, and diplomacy.

Effectiveness in communication with the ability to define, develop and manage strategic areas of responsibility.
Transport Officer
A transport officer :
 Issues departmental and government vehicles.

 Conducts pre and post-vehicle inspections and hands over the keys.

Monitors and manages the logbooks, and keys and authorizing trips.

Coordinates payments of transport accounts, rental lease invoices, e-tolls, and repairs of departmental vehicles within 30 days.

 Renews service level agreements with G-Fleet.

Renews petrol cards and license disks annually.

 Authorizes the payments process with the Bank for maintenance and repairs of leased vehicles.
Requirements
A Grade 12 Certificate or equivalent qualification. 

 Two years of relevant work experience.

 A valid driver's license.

Must possess knowledge of government transport and fleet management.

Computer literacy (Microsoft programs such as Word, Excel, and Outlook).

 Potential to work under pressure, multi-task, and cope with high workloads. 
Client Information Clerk
A client information clerk is in charge of;
Screening, transferring calls, and handling telephonic inquiries from internal and external clients.

Ensuring that information flows internally and externally.

Maintaining a user-friendly office.

Identifying and reporting telephone faults.

 Keeping the record of all dialed and received numbers.
Ensure that the daily doctor's call roaster is updated, distributed, and emailed to other hospitals. Report technical problems to the supervisor.
Requirements
Grade 12. Switchboard or Call Centre certificate. 

1-3 experience in the switchboard or call center.

Computer literacy.

Sound knowledge of customer care service in the switchboard or call center. 

Good verbal and written communication skills.

 Ability to work in a team.

 Potential to work under pressure in a dynamic environment. 

Good telephone etiquette.

  Ability to handle information confidentially.
Assistant Director
An assistant director is responsible for;
The development of data management templates and systems to capture and analyze data/information submitted.

Receiving and monitoring actual school visit reports on a daily/weekly basis from monitors in provinces.

Capturing of analyzed data to generate reports.

Consolidation of school visit reports, generation of electronic district, provincial and national reports.

Dissemination of reports and relevant information to Project Managers and provinces.
Requirements 
A three-year relevant post-matric qualification or equivalent qualification. 

Three (3) years of relevant experience.

Advanced computer skills. Experience in data management.

Proficiency to carry out research and analysis of data.

Knowledge of different programs and techniques to analyze qualitative and quantitative data.

Excellent writing and presentation skills.

Potential to work with a team and under pressure to meet deadlines.
Personal Assistant
What you will be doing as a personal assistant includes:
Provision of support to Senior Manager regarding meetings.

Coordination of logistical arrangements for meetings when required.

Collection and coordination of documents that relate to the Director/Chief Director's and DDG's budget.
Requirements
 Good interpersonal and organizational skills.

Good communication skills.

Knowledge of procurement policy and processes.

Advanced Computer knowledge such as Microsoft Excel, Powerpoint, MS Word, Group Wise Internet etc.)
Manager Nursing
The roles to play as an occupant of this post include ;
Establishment, maintenance, and participation in interprofessional and multidisciplinary teamwork that promotes efficient and effective health care.

Development and monitoring of the implementation of policies, programs, regulations, practices procedures, and standards relating to nursing care.

Provision of professional, technical, and management support for the provision of quality patient care through proper management of nursing care programs.

Utilizing information technology and other management information systems to manage nursing information for the enhancement of service delivery.
Requirements
South African Nursing Council annual practicing certificate.

Specialty courses will be an added advantage.

 Valid driver's license.

Computer literacy.
Principal Personnel
The duties of principal personnel include;
Provision of support on directorates regarding leave management and update leave register on PPersonaland Employment Self Service (ESS).

Assisting in the provision of stationery and office supplies.

Ensuring effective and efficient supervision of staff.

Performance review.
Requirements
Minimum of 1-2 years working experience in an HR working environment.

Good interpersonal and communication skills.
Analysts Technician
An analyst technician is meant to;
Gather a monitoring and evaluation reporting device for each business unit's requirement activities.

Analyze systems specifications for Request for Change (RFC) and translate them into task specifications for developers.

Maintain all developed and existing data requirements for each of the systems.
Requirements
An appropriate recognized 3-year National Diploma or degree in Computer Science or Information Systems/ ICT.

Minimum of  2 years experience as a system analyst.

A professional certificate in System Analysis or Software Quality Assurance and Knowledge.
Social Work Manager
The major role of a social manager is to  provide  mentorship, direction, and leadership to the subordinates and oversee the translation of key developmental strategies into critical objectives and operational plans, including among others
Requirements
A  Bachelor's Degree in Social Work with 10 years of experience in a Social Work services environment.

Knowledge and understanding of the legislative framework regulating the Public Service.

Knowledge and understanding of social dynamics, social systems, and human behavior.
How Can I Apply For The Available Jobs In the Gauteng Department of Education
To apply for any of the available posts in the Gauteng department of education, do these;
Create an account on the official website of the Gauteng Department of Education and choose a job profile for yourself. know that you should be eligible for that job profile.

 Then, fill out the application form.

After that, click on the submit button and wait for the process to complete.
It's advisable that you keep a printout of the application form with you. Its need might later arise.