Application is now open to students that want to apply for the Entersekt Bursary for the 2022/2023 academic section. You will find the bursary details below.
The Entersekt Bursary is available to eligible South Africans that need funding to continue their education. Entersekt is a fintech company providing mobile-based authentication and app security software to protect online, mobile banking and online transactions.
Entersekt is currently providing funds for South African students to help them continue their education. This is an opportunity for you to get funded for your education. Read more about the Enterskt Bursary below.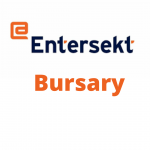 ENTERSEKT BURSARY FIELDS COVERED
Entersekt is calling on all qualified students to apply for its ongoing bursar programme.
The Entersekt bursary is available for students studying Computer Science or Software Engineering, at the University of Cape Town or Stellenbosch University. Application is not open to other students in different programmes or institutions.
COVERAGE VALUE & SELECTION
This bursary is going to take care of students registration fees, tuition fees, accommodation in University residence for students or any approved student accommodation, monthly allowance for meals, transport allowance, textbook and laptop.
Other opportunities for recipients are structured vacation work for students to gain experience in the industry. Successfully shortlisted candidates will have to attend an interview for the final selection. If you did not receive any message from the bursary consider your application unsuccessful.
ELIGIBILITY REQUIREMENTS FOR THE ENTERSEKT BURSARY
To be considered for the Entersekt bursary, applicants must meet up the following eligibility requirements. It is compulsory for applicants to meet up all requirements applicable to them, below are the requirements:
South African citizen
You must have completed Matric
Studying Computer Science or Software Engineering
You must have completed your 1st year of study
Be a student of the University of Cape Town or Stellenbosch University, and will continue to study there
You must be from a designated group
HOW TO APPLY FOR THE ENTERSEKT BURSARY
To apply for the Entersekt bursary, there are no application forms applicants will have to submit a clear copy of the following documents via email to [email protected] 
Below are the required documents applicants are meant to submit:
South African ID Document
Applicants full academic record, including 1st-year results and most recent results on university letterhead
Updated Curriculum Vitae
Note: Applicants must Insert the words "Entersekt Bursary Application 2022" as the subject line
CLOSING DATE
The closing date for the Entersekt bursary is 31 January 2022. Any application submitted later will not be accepted by the bursary board.
CONTACT THE BURSARY PROVIDER
You can contact the bursary board directly using the mail below:
Email: [email protected]