Application is now open for the Cliffe Dekker Hofmeyr Bursary for all eligible South Africans to get funded. The application details will be discussed below.
Cliffe Dekker Hofmeyr Inc. has a long history that began in 1853 with the establishment of W E Moore & Son. After changing its name to Syfret Godlonton-Fuller Moore, the business merged with Hofmeyr, Herbstein & Gihwala to form Cliffe Dekker Hofmeyr Inc. in 2008.
Over 350 lawyers are currently working for the fully South African law company in its locations in Johannesburg and Cape Town. In actuality, Cliffe Dekker Hofmeyr (a member of the global DLA Piper Group) is one of the largest business law firms in South Africa.
Employment, pro bono and human rights, dispute resolution, real estate, trusts and estates, finance and banking, corporate and commercial, projects and infrastructure, technology and sourcing, tax and exchange control, environmental concerns, and competition are among the areas in which the company has expertise.
Arbitration, banking, finance, telecommunications, oil, gas, mining, minerals, hospitality and leisure, as well as projects and infrastructure, are some of the company's key industries.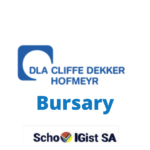 FIELDS COVERED BY THE CLIFFE DEKKER HOFMEYR BURSARY
Cliffe Dekker Hofmeyr bursary is available for eligible South African students for the 2023 academic year.
Students from the faculty of law in both the undergraduate and postgraduate LLB qualifications are eligible for this bursary.
MORE ABOUT THE CLIFFE DEKKER HOFMEYR BURSARY PROGRAMME – OBLIGATIONS
Below are the obligations expected from the recipients during the course of their studies:
Must attend a vacation programme for law students when invited
Submit all academic results and progress reports when required
Agree to a right of first refusal regarding the Practical Vocational Training
ELIGIBILITY REQUIREMENTS FOR THE CLIFFE DEKKER HOFMEYR BURSARY
There are minimum requirements applicants must meet to be eligible for the Cliffe Dekker Hofmeyr Bursary. It is compulsory for applicants to meet all the requirements to be eligible. Below are the requirements:
Open to all South African citizens OR a permanent residents in South Africa
Studying towards an LLB degree qualification (at undergraduate or postgraduate level)
Applicants studying full-time at a recognised and accredited South African University
Achieved a minimum overall average of 63%
Applicants with a strong academic record
Applicants with excellence in another field
Have proven financial need
HOW TO APPLY FOR THE CLIFFE DEKKER HOFMEYR BURSARY
The application for the Cliffe Dekker Hofmeyr Bursary Application 2023is done online using this link. You are to register an account on the portal before you can start your application.
Applicants are to submit a certified clear copy of the required supporting documents. It is compulsory for all applicants to submit all documents to be eligible for the bursary. Below are the required documents:
ID document or passport
Matric certificate on applicants institutes letterhead
A cover letter that includes contains why you deserve to be awarded a bursary, what is important to you in life and any other information that will put you ahead of others
Curriculum Vitae
CLOSING DATE
The application for the Cliffe Dekker Hofmeyr is on September 2022. All applications submitted later will not be accepted by the bursary board.
CONTACT THE BURSARY PROVIDER
You can contact Cliffe Dekker Hofmeyr directly for any query or information using the details below:
Email: gradteam@cdhlegal.com
Graduate Recruitment
Johannesburg office
Tel: 011 562 1000
Email: apply4lawJHB@cdhlegal.com
Cape Town office
Tel: 021 481 6300
Email: apply4lawCPT@cdhlegal.com