The application for the 2020/2021 IWF Fellows Program for International Applicants in USA is now open to interested applicants. The program is open for International Women's Forum (IWF) in the USA.
Through this program, 35 Fellows are convened from all over the world for a total of 20 days. The program will have three separate sessions. The aim of the IWF Fellows Program is to develop leadership and strategic management capacities through creative multidisciplinary training.
International Women's Forum (IWF) is an invitation-only membership organization that includes more than 7,000 diverse and accomplished women from 33 countries on six continents.
The Scholarships are one of the most prestigious scholarships in the world. The aim of the program is to create a global network of future leaders committed to improving the lives of others.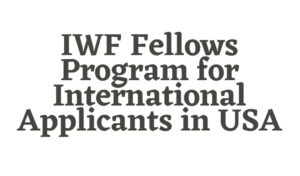 [email-subscribers-form id="2"]
BENEFIT
The program is going to include: Four-day orientation and leadership development program, participation in the IWF World Leadership Conference drawing 850+ female executives from more than 40 nations, Two weeks of customized executive training at Harvard Business School and INSEAD, Mentor Visits.
TUITION FEES: The tuition fee for the IWF Fellows Program is US $30,000 per Fellow.
The tuition includes All Meals & Accommodations and All Course Materials.
Note: Transportation is not provided (ground and air travel).
IWF FELLOWS PROGRAM ELIGIBILITY
The winners of the scholarship will be selected based on the following criteria:
Applicants must have the intention to participate fully in all activities and training components associated with the Fellows
Commitment to the program, as well as the Legacy Project.
Must be able to contribute and gain from the program.
Superior intellectual ability, as evidenced by academic history and distinctions, and recommendations.
Strength of character, motivation, and commitment to goals.
Substantive professional/work experience and significant direct accomplishments.
Possess the ambition to push to the highest levels of their career and the desire to lift as they rise with regard to legacy and mentoring
Considered change agents within their organization and community
The applicants should take admission at the university.
IWF FELLOWS PROGRAM INSTRUCTIONS
You can register for the program using this link: https://iwforum.secure-platform.com/a/organizations/main/home
Only applications submitted with the International Office and registered on the website of the scholarship before JUNE 1, 2020  will be considered.
Click here for more information 
Subscribe the latest scholarship, bursary, internship and institution news