The best Pharmacy schools in South Africa is probably what you are looking for right? You don't have to go far if you want to pursue a career in pharmacy. You need to put into consideration one of these top Pharmacy Schools here in South Africa. Pharmacy is a highly lucrative profession just like pure medicine, especially when it's learnt from the best which is a great decision to make.
One of the biggest challenges students initially faced was learning how to study in Pharmacy school effectively.
Although, to build a successful Pharmacy career isn't difficult if good study habits, the quality of school and teachers experience are highly inculcated; concluding there's no very big secret to being the best pharmacy student.
On this note, if you stay in South Africa or around, this article is specially written to serve as a guide for you when searching for the best Pharmacy schools in your location.
Most importantly, take your time and don't be in a hurry to check out of here. Do not miss out on this vital information but explore what we have packaged for you.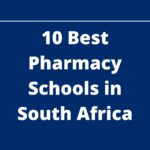 10 Best Pharmacy Schools in South Africa
Below are some of the best Pharmacy schools in South Africa. Kindly go through carefully as most of these schools offer the traditional brick and mortar pattern of studies while some others offer online Pharmacy studies that can be taken either from South Africa or any other part of the world.
Explore the list below:
University of West Cape School of Pharmacy
One of the best Pharmacy schools in South Africa is the University of the Western Cape located at Bellville, South Africa. In the development of historically disadvantaged communities in South Africa, the University of the Western Cape has an explicit commitment from which it draws most of its students.
By making its education accessible to students from these communities, the management of the school aims to play a particular role in this development.
At the University of Western Cape, the Faculty of Pharmacy is a multi-disciplinary department committed to the promotion of a new vision of Health and Welfare Services. Both in the training and education, it offers and in the professionals, it produces and aims to advance the transformation of existing pharmaceutical, health and welfare services in South Africa.
The University of the Western Cape strives for;
The generation of knowledge which amongst other things, addresses the realities, problems, and needs of the community,
The pursuit of excellence in education, research and community service.